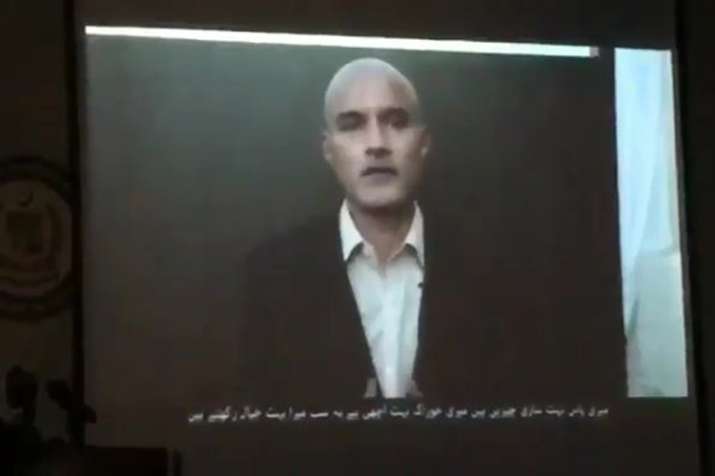 India today slammed Pakistan for releasing another "confessional" video of Indian death row prisoner Kulbhushan Jadhav, terming it a 'propagandistic exercise' and saying that it lacks credibility. 
"This does not come as a surprise. Pakistan is simply continuing its practice of putting out coerced statements on video. It is time for them to realize that such propagandistic exercises simply carry no credibility," the Ministry of External Affairs said today in its official statement. 
The MEA's statement came in response to the a video released by the Pakistan Foreign Office in which Indian death row prisoner Kulbhushan Jadhav can be heard saying that the Indian High Commission diplomat yelled at his mother and wife during the December 25 visit, and that he had seen fear in the eyes of her family members. 
The video begins with Jadhav thanking Pakistan for arranging the meeting with his mother and wife. 
He's then heard asking India why it is lying about him not working for an intelligence agency, as Pakistan alleges.
"My mother was very happy to see me. But I have to tell the Indian public and government and Indian media that I am still a commissioned officer of Indian Navy. I saw fear in the eyes of my mother and wife. After the meeting, the Indian diplomat shouted at my mother as if she was alien," Jadhav said in his video.
"I want to tell Indian public, Indian government and Indian media that I am a commissioned officer in the Indian Navy. Why are you lying about my working for an intelligence agency?" he asked.
The veracity of the video which was released by the Pakistan Foreign Office could not be ascertained. 
Jadhav can also been seen saying that he told her mother that he is in "good health", and that the Pakistani authorities are "taking care" of him and "have not touched" him. 
"I said don't worry Mummy.They (Pakistan) are taking care of me, they have not touched me. She believed me once she saw me personally," he said in the video. 
The video comes days after Indian strongly reacted to the ill-treatment meted out to his mother and wife in Islamabad, followed by the taunts hurled out at the two women by some of the Pakistani media.
Tearing into Pakistan for humiliating Jadhav's mother and wife in Pakistan, External Affairs Minister Sushma Swaraj had said that the meeting lacked "humanity" and "goodwill", and accused Islamabad of conducting it as a "propaganda exercise" and "an opportunity to exploit the situation".  
Addressing the Upper House of Parliament, Swaraj condemned the way the Pakistani authorities allowed the meeting at the Foreign Office in Islamabad and asked them to change their clothes and shoes, and remove bangles and even their "mangalsutras".