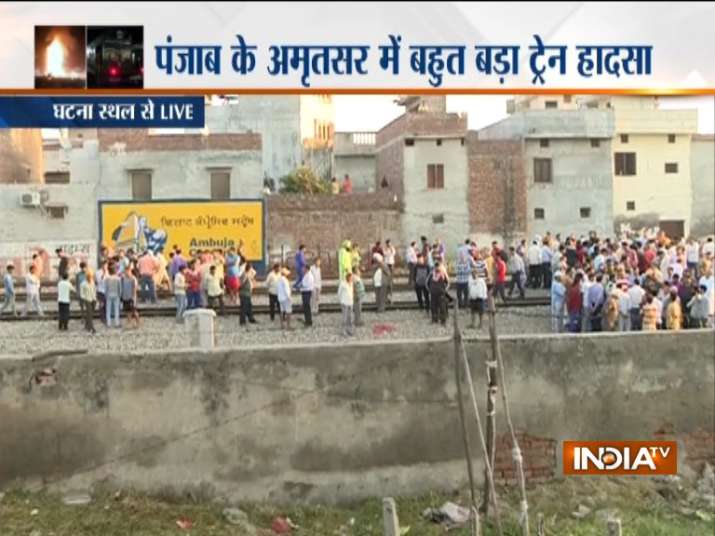 Heart-rending scenes were witnessed in Amritsar as Dusshera celebrations turned tragic when a train rammed  into people people standing across the tracks watching and revelling as the effigy of Ravana went up in smoke.The train people standing across the tracks watching and revelling as the effigy of Ravana went up in smoke. 61 people are confirmed to be dead in the gruesome accient and over 70 are reportedly injured.The celebratory crowd broke into chaos as cries and wails filled the air. Dismembered body parts of revellers laid strewn on tracks and on the blood-soaked ground. 
LATEST VIDEOS on AMRITSAR TRAIN ACCIDENT
Amritsar Train Accident: Slogans raised against Punjab CM Amarinder Singh outside hospital
Amritsar Train Accident: People should refrain from organising such events near tracks, says MoS Railways
Amritsar Train Accident: No conspiracy behind accident says, Navjot Singh Sidhu 
Navjot Singh Sidhu visits injured in the hospital
61 killed as speeding train runs over people watching Ravan burn
Punjab: Over 50 dead as train runs into people watching burning of Ravana effigy in Amritsar
Many political leaders including President Ram Nath Kovind, Prime Minister Narendra Modi, Congress President Rahul Gandhi expressed grief over loss of lives in the accident.
Punjab Chief Minister expressed condolence over loss of lives and announced an ex-gratia of Rs 5 lakh to the family members of the deceased.
Exclusive Footage of Amritsar Train Accident
Meanwhile, the railways has issued helpline numbers for the kin of those injured and dead in Amritsar train accident. These numbers can be used reach for information on the incident -- 01832223171 and 01832564485.
Telephone numbers at Manawala station are 0183-2440024, 0183-2402927 and Ferozpur's helpline number is 01632-1072.
MoS Manoj Sinha, Chairman Railway Board Ashwani Lohani, GM/NR Vishwesh Chaubey will take off from Delhi by an Air Force plane at 11pm.
Exclusive footage shows speeding train ramming into group of people on eve of Dusshera
Railway Minister Piyush Goyal, who is in the US, is cancelling all his engagements there to rush back. He tweeted, "Railways is conducting immediate relief and rescue operations."
Railway officials termed the dead as "trespassers" and said there was no decision so far on any compensation from the national transporter as they were not passengers.
Amritsar train accident: Over 60 dead as train mows down Dussehra revellers in Choura Bazar
The death toll, according to local officials could reach 100.
The accident comes days after five people died and around 35 injured after five coaches and the engine of the New Farakka Express derailed near Rae Bareli in Uttar Pradesh on October 12.