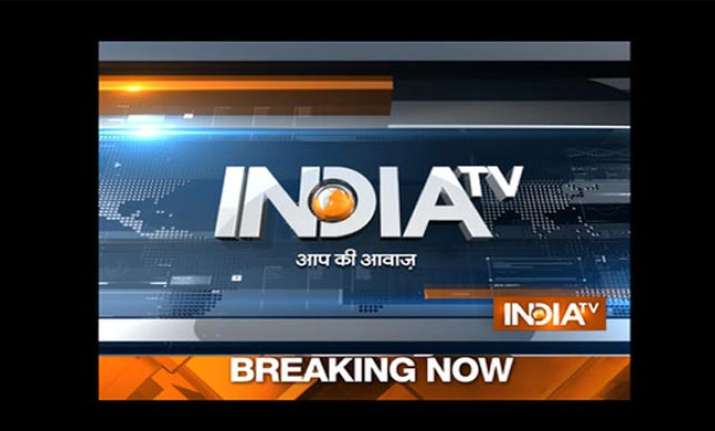 National News
Samajwadi Party crisis: Akhilesh is CM, decision to reinstate sacked ministers rests with him, says Mulayam Singh
Samajwadi Party chief Mulayam Singh Yadav today said that the decision to reinstate sacked ministers including Shivpal Singh Yadav in the Cabinet "rests with Chief Minister Akhilesh Yadav".
Amar Singh praises Rahul Gandhi, says he is 'very knowledgeable'
Heaping praise on Rahul Gandhi, Samajwadi Party MP Amar Singh on Monday and said that the Congress vice-president has been 'misunderstood' by the people of this country.
One dead, several injured as explosion rocks wholesale market at Delhi's Chandni Chowk
One person was dead and four others suffered serious injuries when an explosion rocked a wholesale market in Chandni Chowk area of Old Delhi.
'Not our delegation': BJP distances itself from Yashwant Sinha-led team's meeting with separatist leaders
The ruling Bhartiya Janata Party (BJP) on Tuesday distanced itself from the meeting between Kashmiri separatist leader Syed Ali Shah Geelani and a delegation led by its leader Yashwant Sinha, saying the party has nothing to do with it.
ADHM row: MNS wrong in demanding Rs 5 crore from Karan Johar, concedes Modi govt
The Union government  today conceded that it was wrong on part of MNS leader Raj Thackeray to have asked filmmakers to donate Rs 5 crore to the Army welfare fund for casting Pakistani actors.
International News
61 killed, over 100 injured as terrorists storm Pakistan police centre in Quetta; ISIS claims responsibility
In one of the deadliest terror attacks in Pakistan, at least 61 people, mostly young cadets, were massacred and more than 100 others injured when heavily-armed Islamic State militants attacked a police training centre here in the capital of the restive Balochistan province.
Visit to India shows importance of bilateral relations: British PM Theresa May
Hosting her first Diwali event at 10, Downing Street, British Prime Minister Theresa May has said that her upcoming three-day maiden visit to India shows the importance of bilateral ties between the both countries.
Uri attack: Lashkar-e-Taiba claims responsiblity, invites people to honour slain perpetrator
Pakistan based terror group Lashkar-e-Taiba has claimed responsibility for the terror attack at an army base in Kashmir's Uri that left 20 Indian soldiers dead.
Business News
Have not filed any caveat against Tatas: Cyrus Mistry's office denies media reports
Ousted Tata Sons chairman Cyrus Mistry on Tuesday said he has not filed any caveats, hours after media reports said that he filed four caveats at the National Company Law Tribunal over his sacking.
Disclose your overseas assets, SC tells Vijay Mallya
The Supreme Court on Tuesday told liquor baron Vijay Mallya to disclose in full the assets he holds overseas including the details of the $40 million he got from Diageo in February.
Axis Bank Q2 profit nosedives 83.4 pc on bad loan provisions of Rs 3,623 crore
The third biggest private moneylender in the country Axis Bank witnessed an unanticipated drop of 83.4 percent in its profit after tax (PAT) for the September quarter on a sharp ascent in bad loans. The numbers have gone down to settle at Rs 319 crore.
Entertainment News
Leave everything and watch this cute video of Anushka Sharma singing 'Bulleya' to her pet dog 'Dude'
Actress Anushka Sharma may have a busy shooting routine, but she always finds 'precious time' for the 'Dude' in her life.
25 years of SRK, Gauri: How this Bollywood couple proved opposites attract
Superstar Shah Rukh Khan and his wife Gauri Khan are ringing in their 25th wedding anniversary today. The couple have been going strong in their marriage for all these years and giving relationship goals to many.
Watch: Vidya Balan amazes in edgy 'Kahaani 2' trailer and you will want to know her secrets
After weaving magic with the 2012 movie 'Kahaani', the team is back with another thriller. This time actress Vidya Balan plays the role of a fugitive Durga Rani Singh and the trailer gives a sneak peek to her messed up life.
Sports News
Ready to bat and bowl at any position my team wants me to: Hardik Pandya
Not every player gets as much attention as this 23-year-old at the beginning of his career. Already dubbed as 'the golden boy of Indian Cricket', Hardik Patel certainly impressed ardent fans after he nearly pulled off a thrilling chase against New Zealand in the second ODI.
Ind vs NZ, 4th ODI: Dhoni's boys aim to make captain cool's last probable appearance at home memorable
The stage is perfectly set for Ranchi's favourite son to leave his home crowd with a memory they can cherish forever. Indian skipper Mahendra Singh Dhoni will possibly be making his last appearance at the Jharkhand State Cricket Association Stadium Complex when India take on New Zealand in the penultimate game of the five-match series on Wednesday.