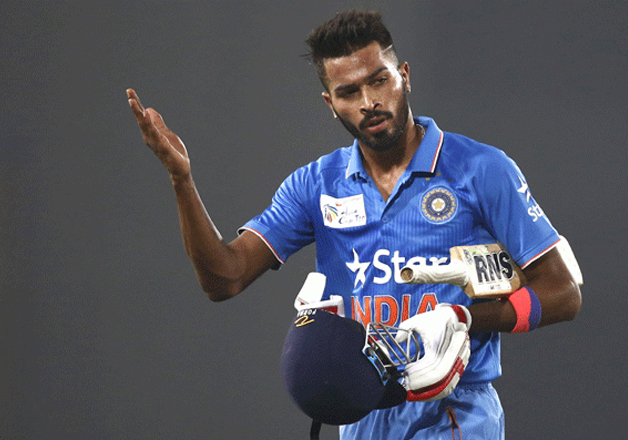 Not every player gets as much attention as this 23-year-old at the beginning of his career. Already dubbed as 'the golden boy of Indian Cricket', Hardik Patel certainly impressed ardent fans after he nearly pulled off a thrilling chase against New Zealand in the second ODI.
An all-rounder, Pandya says he is here to play and that's what matters. Whichever position he is coming to bat or bowl in, he, in his own words, is ready for it.
In the third ODI, skipper Mahendra Singh Dhoni promoted himself to number four and played a match winning knock. To this, Pandya said that it's an exciting time for Team India.
"It shows positive intent. I enjoyed his (Dhoni) batting. As batsman, whatever number I bat at, we should play according to situation. It's a job for everyone. It gives us confidence for someone who bats lower down the order. It's pretty good."
While he is enjoying Dhoni's approach to batting after the skipper promoted himself up the order, the young all-rounder is game about batting at any number which the team management wants him to.
"I'm pretty ready for everything, whatever overs I get." Pandya returned with impressive 3/31 in India's six-wicket win against New Zealand in Dharamasala to be adjudged man-of-the-match in his debut ODI. The youngster said he's fitter and stronger now.
"I was putting the same effort but I've worked a bit more on my fitness. I'm stronger now."
He believes that his game thrives well in pressure situations and Hardik Pandya does not have to look too far as he has both Mahendra Singh Dhoni and Virat Kohli for "inspiration."
"There's a lot to learn when both (Kohli and Dhoni) of them bat. Their batting, running between wickets inspire us. It's at another level.
It's fun to watch them bat together," Pandya paid glowing tributes to his seniors on the eve of their fourth ODI against New Zealand in Ranchi.
A 151-run match-winning partnership between Dhoni (80) and Kohli (154 not out) set up their seven-wicket win in Mohali as India will look to seal the issue in the five-match rubber at the Jharkhand State Cricket Association Stadium Complex tomorrow.
Pandya went out for 36 from 32 balls after being done in by Trent Boult in angled short delivery in the second ODI in Delhi.
"Well I've played that shot before, it was just not my day. I will try not repeat that and learn from mistakes and experience certainly plays a key role."
Asked whether the team was affected by over dependency on Kohli, he said: "When Virat is in full flow, it boosts the confidence. He is a high impact player, so obviously it creates pressure when he gets out cheaply and the team has to start building (the innings) again. Generally, he scores for the team. But as a cricketer, we are ready for any situation."
Pandya further hailed Kedar Jadhav, for giving important breakthroughs with his part-time off-spin.
"It helps a lot, coming as sixth bowler he's certainly making a difference. Winning is important but we are taking match by match and not thinking too far ahead on the result of the series."
"New Zealand are a dangerous side in limited overs. We will have to adjust according to the situation."