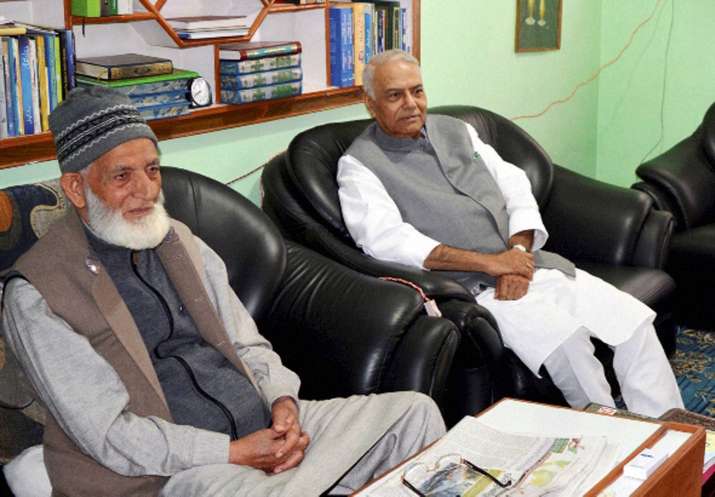 The ruling Bhartiya Janata Party (BJP) on Tuesday distanced itself from the meeting between Kashmiri separatist leader Syed Ali Shah Geelani and a delegation led by its leader Yashwant Sinha, saying the party has nothing to do with it.  
"It is not a BJP delegation. BJP has nothing to do with this," party National Secretary Shrikant Sharma said.  
A five-member civil society delegation led by the former Union minister today met Geelani, who heads the hard-line faction of separatist Hurriyat Conference, amid continuing volatile situation in the Valley.  
Some media outlets have said that it is a BJP delegation which is absolutely wrong, Sharma said, adding that Sinha too maintained that he took up the enterprise in his personal capacity.  
The other members of the delegation are Wajahat Habibullah, the former chairman of National Commission for Minorities, Kapil Kak, former Air Vice-Marshal, journalist Bharat Bhushan and Sushoba Barve of Centre for Dialogue and Reconciliation.  
The Centre has also tried to distance itself from the group with a top Home Ministry official saying the delegation was touring the Kashmir Valley on its own wisdom and the government has nothing to do with it. 
The delegation has not informed the Central government about its visit and it has nothing to do with their initiative, PTI reported quoting the official. 
Sinha and his team members are also expected to meet other separatist leaders, including moderate Hurriyat head Mirwaiz Umar Farooq and Jammu and Kashmir Liberation Front leader Yaseen Malik. 
And after two months of detention at a guest-house-turned-jail in Srinagar, Mirwaiz is now under house arrest at his upscale Nigeen residence. Malik has also been moved from jail to a Srinagar hospital after his health deteriorated.  
Sinha confirmed that he and other "people of goodwill" will try to "meet all" during their visit to the valley that began on Tuesday.
"We came here for humanity. Our motto is to share the grievances and pain (of Kashmiri people). I hope the state of unrest will be resolved soon," Sinha said. 
Talking to reporters, the former BJP minister hinted that it was an independent initiative and that they were "not here as a part of any delegation". 
The fresh bid to break ice between separatist groups and the government comes after 108 days of unrest and shutdown that have disrupted normal life in the Kashmir Valley since the July 8 killing of Hizbul Mujahideen commander Burhan Wani. 
At least 92 persons were killed and over 12,000 injured in clashes between protesters and security forces.