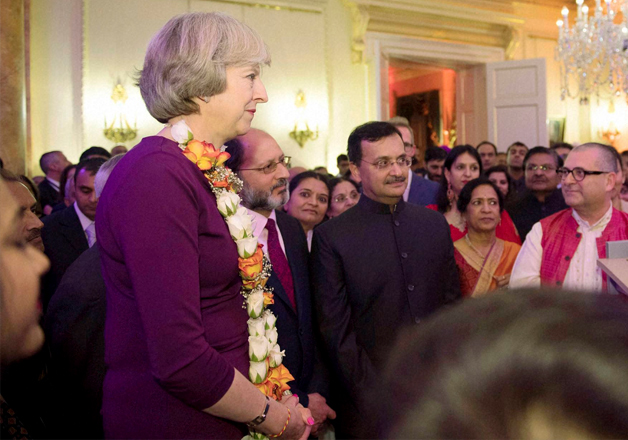 Hosting her first Diwali event at 10, Downing Street, British Prime Minister Theresa May has said that her upcoming three-day maiden visit to India shows the importance of bilateral ties between the both countries. 
"It is a great pleasure and honour to host my first Diwali reception as the Prime Minister. It really shows that the Indian community in the UK is absolutely at the heart of our British society," May said. 
The British PM is slated to embark on a visit to India from November 6. She will be leading a trade delegation to New Delhi as her government seeks new relationships after Britain leaves the European Union. 
"It will be the first bilateral visit I make outside European Union. I will be going to Delhi and Bangalore and it shows the importance of our relationship between the UK and India and I think it will be a true celebration of relations between our countries and shared ambition for the future," she said.
"I'll be visiting India in early November and I'm pleased to say that I will be taking a trade delegation with me. We'll be focusing on small and medium-seized enterprises to try to ensure that we boost the relationships between smaller and medium-sized businesses here in the UK with the important Indian market," she added. 
"It was here in Downing Street PM Narendra Modi chose to start last year's visit and next month I am delighted to join him in India," she further said.
May, who succeeded David Cameron as the new British Prime Minister in July pointed out that "there is a limit to what we can do in terms of entering into a trade arrangement before we have left the European Union, but that does not mean we cannot scope out negotiations and start to have those discussions and indeed we are doing that with a number of countries." 
She said she intends to start formal negotiations on leaving the EU by the end of March, putting Britain on course to exit the bloc - and potentially the European single market - by early 2019.
With PTI Inputs