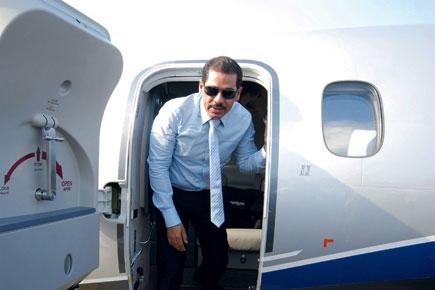 An FIR was registered against Robert Vadra, brother-in-law of Congress president Rahul Gandhi, and former Haryana chief minister BS Hooda on Saturday in connection with the alleged Gurugram land fraud case. 
The FIR has been registered at Kherki Daula police station of Haryana.
The cases relates to the fraudulent land transaction by  Sky Light Hospitality Private Limited, owned by Robert Vadra. 
The FIR has been filed on the complaint of Surendra Sharma, a resident of Mewat.
An FIR against Hooda, Vadra, Director Skylight Hospitality Pvt Ltd and DLF, among others, has been registered at Kherki Daula police station in Gurgaon, Manesar Deputy Commissioner of Police Rajesh Kumar said.
"We received a complaint today from one Surinder Sharma, resident of Nuh, in which he alleged irregularities in the land deals," he said.
The Manohar Lal Khattar-led BJP government had set up a commission in 2015 to probe into the licences given by the earlier Hooda-led Congress government for the development of housing colonies and commercial complexes in four Gurgaon villages.
Robert Vadra, however, rejected all charges against him and said that the FIR has been registered to divert attention from real issues like increase of oil prices.
"It's election season... there is an increase in oil prices... so let's divert the real issues of people with Robert Vadra's decade old issue," Vadra sarcastically remarked.
Reacting to filing of FIR against Vadra and Hooda, senior IAS officer Ashok Khemka said that the state govt could have done 3 years earlier what a private man has done now.
"Dhingra Commission of Inquiry was wastage of time and public money. What a private man could do now, the State Govt could have done 3 years earlier. They had access to official records and my reports of 21 May, 2013 and 12 Feb., 2015. Shielding the corrupt is also a corrupt act," he tweeted.
Watch: FIR registered against Robert Vadra in Gurugram land fraud case