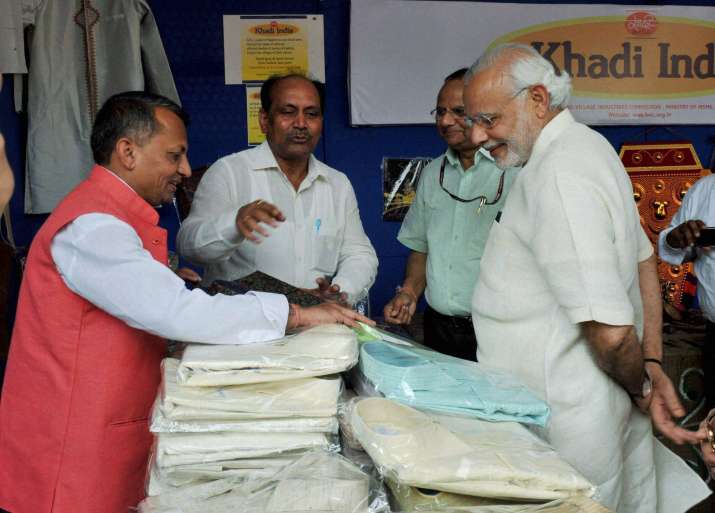 New Delhi: In a bid to boost Khadi production and benefit small weavers across the country, Khadi & Village Industries Commission has urged the government to appeal its employees to wear clothes made from the hand-spun fabric at least once a week.
According to a Times of India report, the government is considering the plea and may soon ask its employees to wear Khadi on Friday.
The report mentioned that the entire exercise would be voluntary but the idea is to increase sales.
The Central government currently has around 35 lakh employees, excluding the Railways and Defence.
KVIC chairman VK Saxena said that they have recently bagged Rs 40 crore tender from Indian Railways and that some private companies such as JK Cement have already decided to completely shift to Khadi uniforms.
Last year, the sale of Khadi products increased by over 60 per cent after Prime Minister Narendra Modi's appealed to buy at least one khadi garment.
In his first 'Man Ki Baat' program in October 2014, the Prime Minister had advocated for use of khadi products as a homage to Mahatma Gandhi. He had impressed upon people to use at least one khadi product, may it be a handkerchief or even a bedsheet.
According to Micro, Small & Medium Enterprises (MSME) Minister, Kalrak Mishra, this behest from the Prime Minister resulted in a spurt in the sale of Khadi products.
In 2012-13, there were 21,119 khadi artisans. The production of khadi was to the tune of Rs 761.93 crore and employment was generated for at least 10.71 lakh people who earned Rs 459.18 crore.
Mishra estimated that the Khadi production in the country will cross Rs 1,300 crore in 2016-17 and create 19.5 lakh jobs. Also the government has allocated Rs 340 crore to Khadi and Village Industries Commission in the Union Budget.