​Congress President Rahul Gandhi on Monday met Rashtriya Janata Dal (RJD) supremo Lalu Prasad at All India Institute of Medical Sciences (AIIMS) in New Delhi. 
The Congress president reportedly enquired about Lalu Yadav's health during his meeting with the RJD chief. The two leaders are also believed to have discussed the present political scenario in the country, including in Bihar.
Reacting to Rahul Gandhi's meeting with Lalu Yadav, UP chief minister Yogi Adityanath said that since the Congress talks against corruption in public life, the party should should offer clarification over the meeting at AIIMS. 
Lalu Prasad, the former Bihar chief minister, is not keeping well and he is undergoing treatment at AIIMS.
Lalu was shifted to AIIMS from Ranch jail where he was serving sentence since December 23 last year after being convicted in a fodder scam case that related to illegal withdrawal of money from the Deogarh treasury.
Meanwhile, the RJD chief was discharged from the AIIMS today. He is now being taken to the Ranchi jail by the Jharkhand police.
In a letter to the AIIMS Director, Lalu Yadav on Monday said that he should not be discharged from the hospital till the time he is fully cured of all the ailments.
The RJD chief, in his letter, pointed out that he was suffering from multiple ailments including heart disease, kidney infection and sugar. Lalu added that he is suffering from lower-back pain besides feeling dizziness, adding his blood pressure and sugar level shoot up intermittently.   
Lalu pointed out that proper  treatment for kidney ailment is not available at Ranchi where he is serving the sentence after being convicted in multiple cases relating to the fodder scam.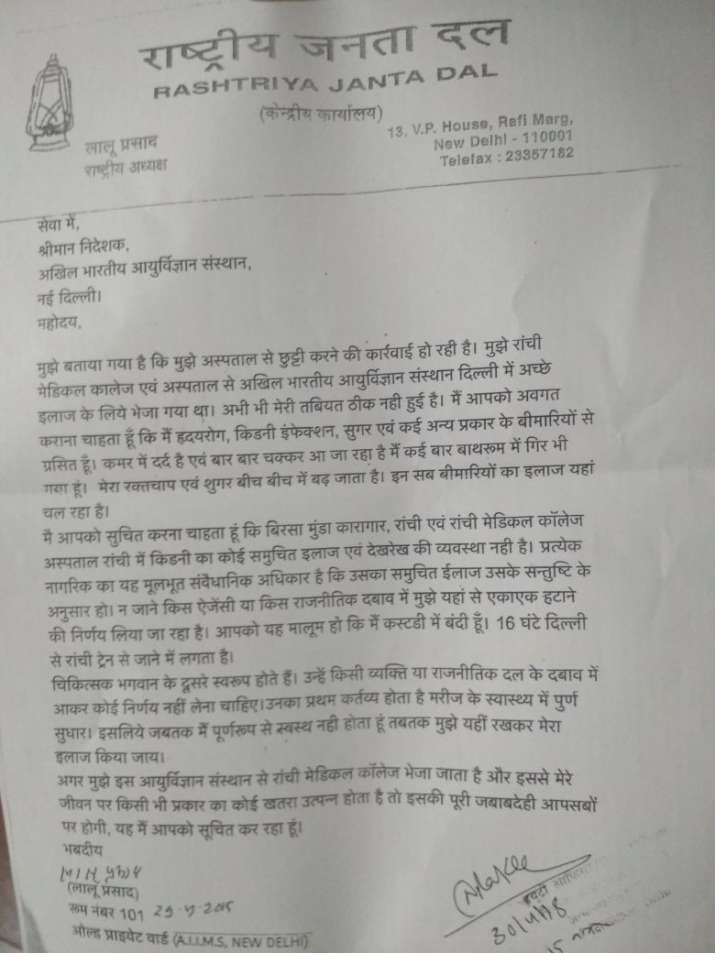 Lalu pointed out that every citizen of the country enjoyed the fundamental right of receiving treatment to his satisfaction and  expressed apprehension that he was being shifted to Ranchi under political pressure or pressure from any agency.
Lalu warned the AIIMS Director that the hospital administration would be responsible if anything untoward happens to him after he is shifted to Ranchi.
However, in a statement,  AIIMS said that since Lalu's condition has improved significantly, he was being referred back to Ranchi Medical College for management of his chronic issues, as advised by the medical board which was constituted for his treatment 
"Sh Lalu Prasad was referred from Ranchi Medical College to AIIMS for management of his acute medical condition . He has improved significantly and as per advise of the medical board constituted for his treatment , he is being referred back to Ranchi Medical College for management of his chronic issues . He is currently stable and is fit to travel," the AIIMS statement said.
Reacting to the decision to shift Lalu Yadav to Ranchi, his son and former Deputy Chief Minister of Bihar Tejashwi Yadav said that it was a hasty decision and only AIIMS authorities could reveal the reasons behind his father's sudden transfer.
"The decision to shift Laluji from AIIMS to Ranchi Hospital has been taken in haste. AIIMS is much better and I wonder why this decision has been taken. Only AIIMS authorities can reveal the reason behind the sudden transfer of Laluji,"  news agency ANI quoted Tejashwi as saying.
Congress, RJD and Nitish Kumar's JD(U) had contested 2015 Assembly elections in Bihar as part of "mahagathbandhan". However, Nitish Kumar walked out of the alliance government last year and joined hands with the BJP.
The RJD chief has been convicted in a total of four fodder scam cases relating to fraudulent withdrawal of money. He has been sentenced to jail terms for 27 years.
The Jharkhand High Court will hear  the provisional bail plea of Lalu Yadav, which could grant him three months outside judicial custody for treatment, on May 4.
Watch Video: Congress President Rahul Gandhi meets RJD Chief Lalu Prasad Yadav at AIIMS
​