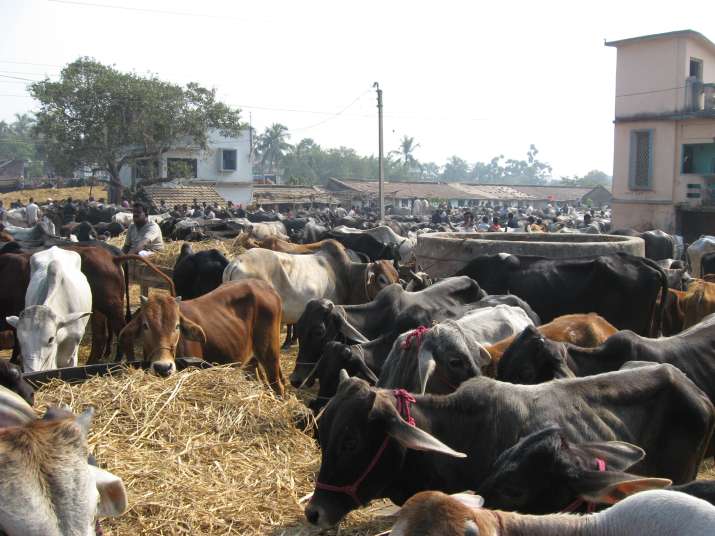 The central government has banned the sale and purchase of cattle from animal markets for slaughter. As per the stringent 'Prevention of Cruelty to Animals (Regulation of Livestock Markets) Rules, 2017' under the Prevention of Cruelty to Animals Act notified by the Environment ministry, the member secretary of an animal market committee will have to ensure that no person brings a young animal to the animal market.
"No person shall bring a cattle to an animal market unless upon arrival he has furnished a written declaration signed by the owner of the cattle - stating the name and address of the owner of the cattle, with a copy of the photo identification proof.
"Giving details of the identification of the cattle and stating that the cattle has not been brought to market for sale for slaughter," the notification said.
A senior environment ministry official told PTI that the notification is in the direction of animal welfare.
The notification has described the "animal market" as a market place or sale-yard to which animals are brought from other places and exposed for sale or auction and includes any lairage adjoining a market or a slaughterhouse.

 

N G Jayasimha, former member of the legal sub-committee of Animal Welfare Board of India, said that due to the present system of open markets that allow trade of both milch and slaughter animals, and multiple buyers and sellers, it becomes impossible to trace an animal back to its farm of origin.
"Hence, the Prevention of Cruelty to Animals (Regulation of Livestock Markets) Rules, 2017 have been notified. The rules prohibit the sale of animals for slaughter through the livestock markets so that animals for slaughter could be sought directly from farms, thus ensuring traceability and food safety," he said. 
The new rules, which will take another three months to be implemented, mandates producing proof of identity and farmland ownership documents by both the seller and the buyer before the trade.
After buying a cow, a trader must make five copies of proof of sale and submit them at the local revenue office, the local veterinary doctor in the district of the purchaser, animal market committee, apart from one each for seller and buyer.
"Take an undertaking that the animals are bought for agriculture purposes and not for slaughter," reads a directive to committees overseeing animal markets in the rule notified under the Prevention of Cruelty to Animals (PCA) Act of 1960 that gives the Centre powers over animal welfare.
Reports say that the new rules were approved by former Environment minister Anil Madhav Dave before his death last week. The ministry drafted the rules on Supreme Court directions aimed at improving condition of animals in these markets.