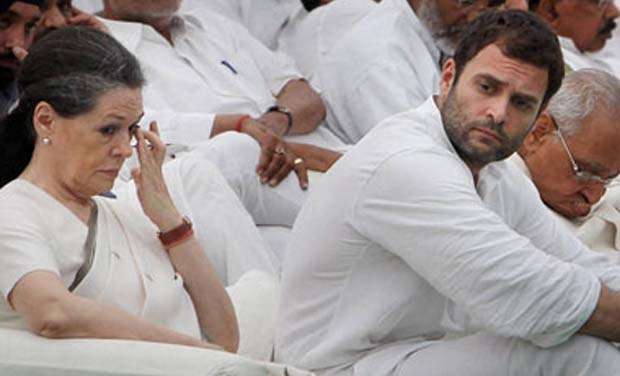 Congress President Rahul Gandhi's barb on Bharatiya Janata Party (BJP) and Rashtriya Swayamsevak Sangh (RSS) has come back to haunt him. Responding to his allegations that the two organisations were 'fascist' in their conduct towards Dalit protests over Bhima-Koregaon violence, BJP on Thursday reminded Congress chief of his grandfather's loyalty to Italy's former dictator Benito Mussolini. 
"Rahul Gandhi must look within before he calls the BJP-RSS fascist...," BJP tweeted a picture which read - "Stefano Maino, Sonia Gandhi's father had fought against Soviet military alongside Hitler's Wehrmacht on the eastern front in World War II. He also called himself a loyal supporter of Benito Mussolini and Italy's National Fascist Party."
Rahul Gandhi must look within before he calls the BJP-RSS fascist... pic.twitter.com/ljMpmPZfp0

— BJP (@BJP4India) January 4, 2018
The tweet quoted an article published in Outlook on February 23, 1998, in which the magazine quoted Sonia Gandhi's father stating that he despised current leadership of Italy as they betrayed Mussolini. 
The article read: Maino declared his unwavering loyalty to Mussolini and Italy's 'admirable' fascist past. All the modern Italian political parties were hopeless, except the neo-fascist front. What Italians needed was compulsory sterilisation, Manio was quoted as saying.
Benito Mussolini was the founder of Italian Fascism. Known as Il Duce (The Leader), Mussolini ruled Italy with an iron fist from 1922 to 1943. 
The BJP's tweet had come after Rahul Gandhi accused both RSS and BJP of fascist behaviour. "A central pillar of the RSS/BJP's fascist vision for India is that Dalits should remain at the bottom of Indian society. Una, Rohith Vemula and now Bhima-Koregaon are potent symbols of the resistance," Gandhi had tweeted on Tuesday. 
A central pillar of the RSS/BJP's fascist vision for India is that Dalits should remain at the bottom of Indian society. Una, Rohith Vemula and now Bhima-Koregaon are potent symbols of the resistance.

— Rahul Gandhi (@RahulGandhi) January 2, 2018
Read full story: Bhima-Koregaon violence a symbol of Dalit resistance, says Rahul Gandhi