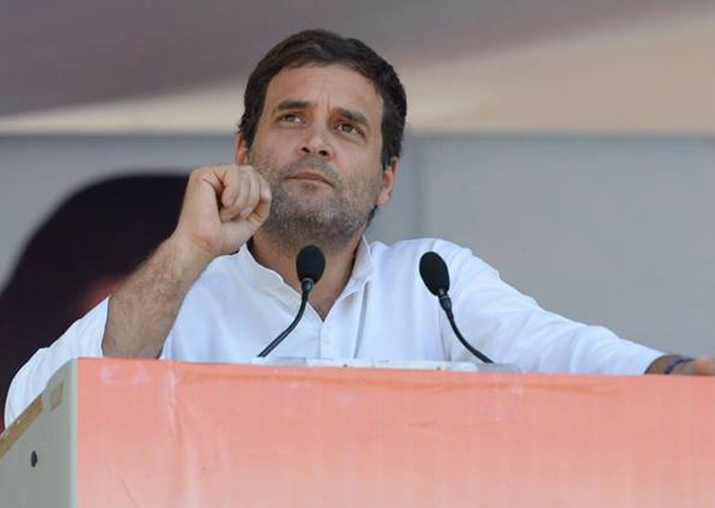 Targeting the Centre over violence in the village of Bhima-Koregaon in Maharashtra, Congress president Rahul Gandhi today said that the BJP's "fascist vision" was to blame for increasing incidents of violence against the Dalit community. 
In his tweet, Rahul termed the protests as "potent symbols" of Dalit resistance against the BJP's "anti-dalit" policy. 
"A central pillar of the RSS/BJP's fascist vision for India is that Dalits should remain at the bottom of Indian society. Una, Rohith Vemula and now Bhima-Koregaon are potent symbols of the resistance," he wrote. 
On Monday, the event to mark 200th anniversary of the Bhima Koregaon battle in Pune district, in which forces of the East India Company defeated Peshwa's army, was marred by violence, with at least one person getting killed. 
The violence sparked off protests in various parts of the state today, including in Mumbai where protesters staged a rail roko in Chembur. 
Shops and business establishments were shut and a senior journalist of a national news channel was attacked as groups of youths from Chembur, Vikhroli, Mankhurd and Govandi joined the protest.
Maharashtra Chief Minister Devendra Fadnavis said a judicial inquiry has been ordered into the violence. He said the slain youth's death will be probed by the CID and announced Rs 10 lakh compensation for his kin.
NCP chief Sharad Pawar slammed the administration for not taking preemptive steps to curb the violence which broke out yesterday.
"Since the administration did not take precautions, rumours and misunderstanding spread. A youth in Nanded died unfortunately. People from political and social field should defuse the situation harmoniously and patiently without making provocative speeches," the former Union minister appealed.