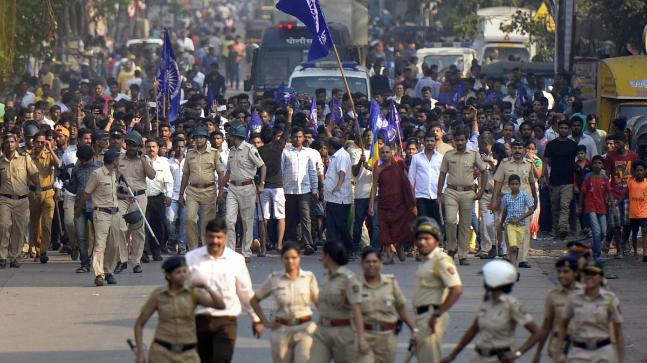 After Special Court in Pune rejected bail pleas filed by three human rights and civil liberties activists, accused of involvement in the Elgaar Parishad and the Koregaon-Bhima caste riots, two of them were re-arrested on Friday. 
The bail applications of Sudha Bharadwaj, Vernon S. Gonsalves and Arun T. Ferreira were declined by the Special Judge of the Unlawful Activities (Prevention) Act Court, K.D. Vadane in a common order. 
After the court's verdict, lawyers for Gonsalves and Ferreira immediately moved fresh applications seeking extension of their house arrests by one week, but that too was not allowed by Special Judge Vadane.
"Since their pleas were not granted by the court, we have arrested them (Gonsalves and Ferreira) and taken them into custody. We are now working on arresting Bharadwaj," Joint Commissioner of Police Shivajirao Bodkhe told IANS.
Gonsalves and Ferreira shall be produced before a court for remand on Saturday before continuing further investigations, he added.
The three were placed under house arrest along with two other co-accused, as per an earlier Supreme Court directive, in a public interest litigation filed by historian Romila Thapar and others.
During the investigations into the Koregaon-Bhima riots, the Pune Police had raided and arrested five accused including Bharadwaj, Gonsalves, Ferreira, Gautam Navlakha (now released) and P. Varavara Rao (currently in house arrest in Hyderabad).
Earlier in June, the Pune Police had nabbed activists Rona Wilson, Sudhir Dhawale, Shoma Sen, Surendra Gadling, Mahesh Raut and Rana Jacob in the Koregaon-Bhima case.
Besides the Koregaon-Bhima violence, the police claimed that they harboured links with Maoist terror groups, were allegedly planning to carry out a high-level political assassination in a 'Rajiv Gandhi-style operation', procuring arms and ammunition and seeking to incite disturbances and violence in the country to topple the government.
(With IANS inputs)