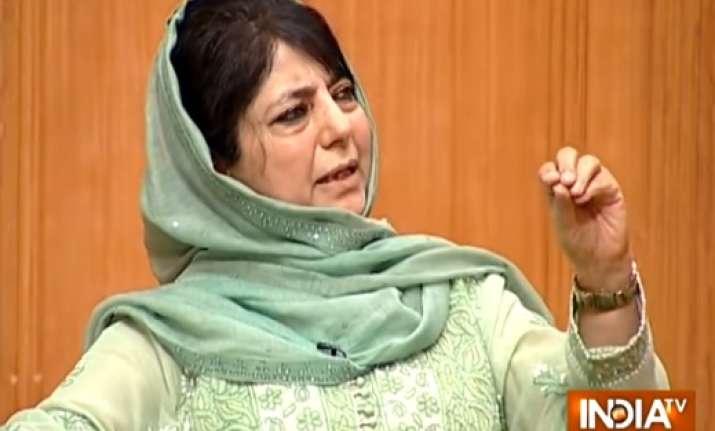 Dismissing media reports about PDP's efforts to forge a government with the help of Congress party in Kashmir, Mehbooba Mufti said her party could have done that two years back if they wanted to. She described such reports as "baseless". 
Replying to a question from Rajat Sharma in the show Aap Ki Adalat about her reported talks with Congress leader Sonia Gandhi,  Mehbooba Mufti replied: " Bilkul galat (totally wrong)."
She said: "Had it been so, why should have I resigned? When our government (with BJP) fell, the Governor asked me whether I would like to explore other alternatives, and I told him, I will send my resignation within an hour." 
Mehbooba Mufti pointed out that "PDP could have formed the government with Congress two years back. We did not, and formed the government (with BJP) for a greater aim which my father had envisioned."
The former chief minister reacted strongly to reports about BJP trying to form a government by splitting the PDP. 
She issued a veiled warning to the Centre, saying: "If Delhi intervenes and breaks our party, and make Sajjad Ghani Lone or whosoever as Chief Minister, it will erode the trust of the Kashmiris in Indian democracy. Any intervention from Delhi will be taken seriously." 
Watch video: 
Watch full episode of Aap ki Adalat here: