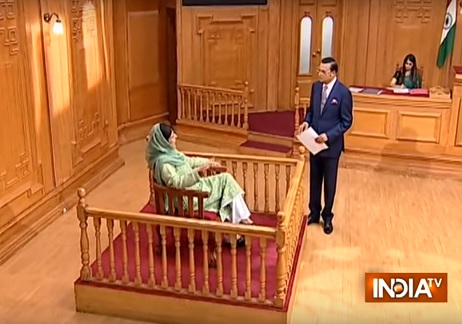 Former Jammu and Kashmir Chief Minister Mehbooba Mufti said that the politicisation of the Kathua rape case was "unfortunate." She further said that the brutality meted out to the eight-year-old girl still gives her goosebumps. 
Replying to a question from Rajat Sharma in the show Aap Ki Adalat, Mehbooba Mufti said, "Whenever I recall this incident, I get goosebumps. I have hardly spoken much about this horrendous case, because even I have two daughters."
"Even more horrifying was the petty politics played using that little girl, stoking Hindu-Muslim tension. It was such an injustice to her very soul," Mufti added.
Talking about the probe in the case, Mufti lauded the Crime Branch and said that it conducted a good and scientific investigation.
"Crime Branch conducted such a thorough professional investigation, which has probably never been witnessed before," the former chief minister said.
According to the chargesheet, Ram – the main conspirator – instigated his juvenile nephew and six others to execute the carefully planned strategy to remove the nomadic Muslim community of Bakherwals from the area.
The accused gave the girl sedatives to make her unconscious while holding her in captivity at the 'Devisthan'.
The juvenile, a school dropout, turned out to be the main player in the abduction and murder, raping the child repeatedly along with Jangotra and Khajuria.
On January 11, six days before the child's body was recovered from the Rassana forest on January 17, the juvenile phoned his cousin Jangotra and asked him to return from Meerut where he was studying if he wanted to "satisfy his lust", the chargesheet stated.
Watch Video: 
Watch full episode of Aap ki Adalat here: