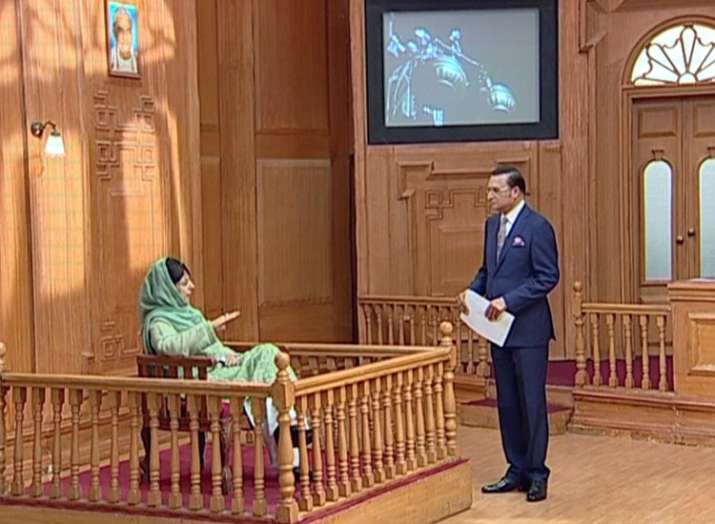 Former Chief Minister of Jammu and Kashmir and People's Democratic Party chief Mehbooba Mufti has refuted media reports about her party's efforts to forge a government with the help of Congress party in Kashmir. She described such reports as "baseless". 
Replying to a question from Rajat Sharma in the show Aap Ki Adalat about her reported talks with Congress leader Sonia Gandhi,  Mehbooba Mufti replied: " Bilkul galat (totally wrong)."
She said: "Had it been so, why should have I resigned? When our government (with BJP) fell, the Governor asked me whether I would like to explore other alternatives, and I told him, I will send my resignation within an hour." 
Mehbooba Mufti pointed out that "PDP could have formed the government with Congress two years back. We did not, and formed the government (with BJP) for a greater aim which my father had envisioned."
The former chief minister reacted strongly to reports about BJP trying to form a government by splitting the PDP. 
She issued a veiled warning to the Centre, saying: "If Delhi intervenes and breaks our party, and make Sajjad Ghani Lone or whosoever as Chief Minister, it will erode the trust of the Kashmiris in Indian democracy. Any intervention from Delhi will be taken seriously." 
She reminded that former PM Atal Bihari Vajpayee had promised to hold free and fair polls in the valley in 2001, and the result was a PDP-Congress government. 
"After that historic election, the trust of the people of Kashmir in Indian democracy was built. Since then elections had been taking place in Kashmir in a free and fair manner. This is the only link remaining between the people of Kashmir and India, and every Kashmiri goes to cast his vote at the polling station. If you snatch away that vote ('vote par daaka dalogey'), then what will happen?"
 
Mehbooba Mufti challenged anybody to prove a single case of corruption against her. "There was not a single paisa of corruption. Yes, there was corruption in the system at the lower levels, but we could not control that in two years."
 
Asked about rebel PDP MLA Abid Raza Ansari alleging that Mehbooba's close associate Naeem Akhtar had purchased 250 canals of land in Budgam, the former chief minister replied: "I will not respond to allegations made by individuals. They can say anything. Some legislators were not made ministers, some were not given good portfolios."
 
"The biggest source of corruption in the valley has always been in the matter of jobs. Our government appointed 8-10,000 police personnel, but there was not a single paisa of corruption involved. I dare anybody to prove a single paisa of corruption charge against me as an MLA, as an MP or as the Chief Minister, I will leave politics."
 
Mehbooba added: "The previous chief ministers used to amass thousands of crores of rupee from big projects. One former chief minister has a house in Srinagar, a house in Jammu and one in Delhi."
 
On charges of nepotism levelled by some dissident MLAs in her party, Mehbooba said: "My brother Tasadduq is one of the best cinematographers in the world. After my father's passing away, I felt lonely and was undergoing emotional trauma. I persuaded Tasadduq to join politics. Earlier, I and my daddy used to work as a team. My uncle was in the party from those days, when people were unwilling to join PDP. Our relatives are not "hawaa ke ghodey" (flying horses) who were planted in our party. They had been working at the grassroots since many years."
 
The former chief minister claimed that "there was 70 per cent improvement in the situation in the valley when unilateral ceasefire was enforced during Ramzan this year. People heaved a sigh of relief. This ceasefire was not meant for militants, it was meant for the common man. By discontinuing the ceasefire, we did what the militants really wanted."
 
Mehbooba Mufti said, for the first time during ceasefire, the Home Minister came to the valley and no strike call was given. People were getting a sense of relief."
 
Describing the period from 2002 to 2005 as "a period of magic moment", the former chief minister said, "at that time Vajpayee was the PM in Delhi and my father Mufti Sahib was the chief minister, and both were working in close tandem. The people of valley still remember those days". 
 
When Rajat Sharma pointed out that Prime Minister Narendra Modi had also offered peace a chance by inviting the then Pakistan PM Nawaz Sharif to Delhi and visited Lahore to celebrate his birthday, but Pakistan responded with attacks in Pathankot and Uri, Mehbooba replied: "I do not deny that Modiji didn't try, but there has to be consistency."
 
"We had invited Modiji to Srinagar, where he addressed a big public meeting. The people of the valley had great expectations, but they went home disappointed."
 
"Talks with Pakistan is the only way out. Like Vajpayee, we should have talks with Pakistan not once, or twice, but for many, many times. Kashmir issue cannot be solved with guns…. Surgical strike was carried out, did it end bloodshed? Could we stop editor Shujaat Bukhari from being killed? …To stop bloodshed in Kashmir, we will have to stop Pakistan, and that can be done only through talks."
 
When Rajat Sharma said that Modi had a 56-inch chest to face challenges, Mehbooba replied: "He will have to give at least one inch from his 56-inch chest for the people of Jammu and Kashmir. The idea of India is incomplete without the idea of Kashmir."
 
Mehbooba Mufti agreed that "Pakistan had been involved (in fomenting violence) in Kashmir since the beginning. But Kashmiris are becoming the casualty of India-Pakistan rivalry. Whether it is today, or tomorrow, or 10 years hence, the solution to Kashmir problem lies in following Vajpayee's path (of insaaniyat, Kashmiriyat)".
 
The PDP chief said, families of separatist leaders should not be harassed. "(Hizbul chief) Syed Salahuddin is in Pakistan for last 30 years. His sons have been living in the valley for 30 years. They are not involved in any (separatist) activity, and yet they are being harassed. Salahuddin's son Shahid was arrested because his father sent Rs 3 lakhs from Pakistan for treatment of his ailing mother. When his bail plea came up, the judge was changed. He and his brothers were living the life of commoners."
 
About the arrest of Dukhtaran-i-Millat leader Asiya Indrabi by NIA, Mehbooba said: "I had ordered the arrest of Asiya Indrabi. But the NIA has now brought her to Delhi. Will you bring Kashmiri women to Delhi (for prosecution) ?"
 
Asked why she was being soft towards separatist Hurriyat leaders, Mehbooba replied: "If you call them 'desh ke dushman', then why did Advani as Deputy Prime Minister meet those leaders twice?"
 
Mehbooba demanded that there should be more transit points for travel and trade across the LoC. "If you say that these transit points are being used to pump in money and drugs, then why is the Wagah border (in Punjab) open, where 50 quintals drugs were seized? For years, I have been demanding body scanners worth Rs 5-6 crore in Rawalakot and Uri LoC transit points, but these were not given. Militants do not infiltrate from Rawalakot or Uri, they infiltrate from other areas."
 
"I want that many more cross-LoC transit points should be opened, and Kashmir should also be allowed to join CPEC (China-Pakistan Economic Corridor). Let the people here see what is happening there, and let people from there come and see this great country."
 
The former chief minister justified withdrawal of cases against nearly 11,000 youngsters charged for stone throwing. "These cases were from 2008 till 2018. Those studying in Class 5 then are now in college. Should we send them to jail and spoil their future?"
 
Mehbooba Mufti in Rajat Sharma's show Aap Ki Adalat will be re-telecast on Sunday at 10 am and 10 pm. 
Watch full episode of Aap ki Adalat here: