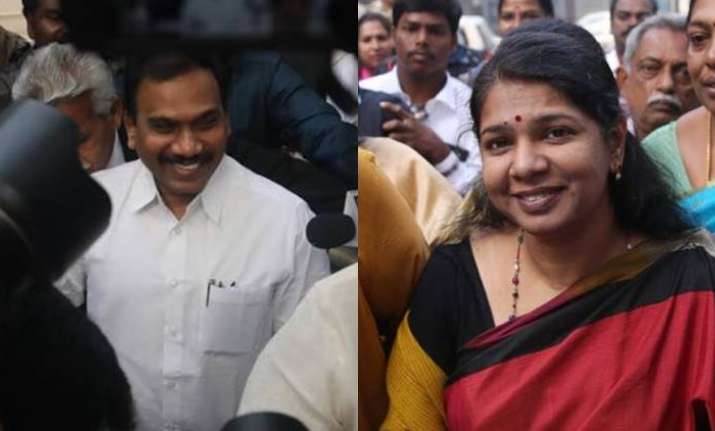 Former telecom minister A Raja, DMK leader Kanimozhi and 17 others were acquitted by a special CBI court in the Enforcement Directorate's money laundering case relating to the 2G spectrum scam. 
Special Judge OP Saini also acquitted Shahid Balwa, Vinod Goenka, Asif Balwa, Rajiv Aggarwal, Karim Morani, P Amirtham and Sharad Kumarin connection with the case.
The alleged scam on the issuance of licences and allocation of 2G spectrum by the Department of Telecom occurred during the Congress-led UPA government's first tenure in 2008 but was widely reported in 2010 following a report by the Comptroller and Auditor General of India (CAG).
Kanimozhi, who served several months in Delhi's Tihar jail during trial, thanked those who stood by her after the verdict. DMK supporters were seen bursting fire crackers outside the court complex and showered Raja and Kanimozhi with flowers as soon as they stepped out of court.
Also read | 2G scam timeline: Tracing the many ups and downs in this decade-long saga
"The acquittal of all the accused by the special court has brought happiness to us. The verdict further proves that there was no wrong done. All this has been proved," MK Stalin, DMK Working President said.
The court on Thursday gave verdict on three separate cases, in first CBI had charge sheeted 14 individuals and three companies; second CBI charge sheet had names of eight individuals and five companies and third charge sheet filed by ED had named total 19 defendants. All charges were dismissed in absence of incriminatory evidence.
In response to the judgment, the CBI said that it the evidence was not appreciated by the court in proper light, "Today's judgement has been prima facie examined and it appears that evidence adduced to substantiate charges by the prosecution has not been appreciated in its proper perspective by the learned court. CBI will be taking necessary legal remedies in the matter," the official statement said. 
Also read: Loud cheers, celebrations in court complex as A Raja, Kanimozhi acquitted
BJP leader Subramanian Swamy, on whose PIL CBI probe was ordered in 2G case, says government should appeal in high court against acquittals.
Meanwhile All acquitted in the case will have to furnish a bail bond of Rs. 5 lakhs each. This is done to ensure their presence in a higher appellate court if the verdict is challenged.
Congress claims vindication, BJP says investigation to continue 
P Chidambaram, who was finance minister in UPA government when the alleged scam broke out, said, "The charge of a big scam with the involvement of top people in the government was never true."
Echoing his views, former prime minister Manmohan Singh said that the court judgement has to be respected. "I'm glad that the court has pronounced that the massive propaganda against UPA was without any foundation," the senior Congress leader added.  
Kapil Sibal, who succeeded DMK leader A Raja in the ministry, said that his position of no wrongdoing stood vindicated and the Bharatiya Janata Party and the then CAG must apologise.  
"If you create an atmosphere of suspicion that everything the UPA-1 did was wrong...the entire opposition gets on the bandwagon and vitiates the atmosphere, you get a situation where the entire telecom sector is in doldrums," Sibal said.
However, the ruling party, which has maintained that 2G scam was one of the biggest corruption cases of independent India, refused to let Congress bask in the glory of acquittal. 
"Congress leaders are treating this judgement as some kind of a badge of honour and a certification that it was an honest policy. This was a corrupt and dishonest policy, which has already been upheld by the Supreme Court in 2012," Finance Minister Arun Jaitley said. 
Also read: Who said what on 2G spectrum case verdict
All acquitted in three separate cases by CBI and ED
In the first case filed by the CBI, Raja and Kanimozhi were facing trial along with former telecom secretary Siddharth Behura, The court had in October 2011 framed charges against them under various provisions of the IPC and the Prevention of Corruption Act dealing with offences of criminal conspiracy, cheating, forgery, using as genuine fake documents, abusing official position, criminal misconduct by public servant and taking bribe. 
In its charge sheet filed in April 2011 against Raja and others, CBI had alleged that there was a loss of Rs 30,984 crore to the exchequer in allocation of 122 licences for 2G spectrum which were scrapped by the Supreme Court on February 2, 2012. 
In the case involving promoters of Essar Group, Loop Telecom and Saraf, three companies—Loop Telecom Ltd, Loop Mobile India Ltd and Essar Tele Holding Ltd (ETHL) -- were also named by the CBI in its charge sheet.  While the court had charged them with the offence under section 120 B (criminal conspiracy) read with section 420 (cheating) of IPC, substantial charge of cheating was made out against Saraf. The CBI had named them in its charge sheet on December 12, 2011, alleging they had cheated the Department of Telecommunication by using Loop Telecom as a "front" to secure 2G licences in 2008. 
In its final report, the ED had named 10 individuals and nine companies as accused and listed them in the charge sheet for the offences under the Prevention of Money Laundering Act. The list included Raja, Kanimozhi, Shahid Balwa, Vinod Goenka, Asif Balwa, Rajiv Aggarwal, Karim Morani, P Amirtham and Sharad Kumar in connection with the case.  In its charge sheet, the ED had also named DMK supremo M Karunanidhi's wife Dayalu Ammal as an accused in the case in which it had alleged that Rs 200 crore was paid by STPL promoters to DMK-run Kalaignar TV. 
2G VERDICT: CLICK HERE TO SEE THE SPECIAL COURT ORDER 
Text from paragraph number of 1817 and 1818 of full order:
"There is no evidence on the record produced before the Court indicating any criminality in the acts allegedly committed by the accused persons relating to fixation of cutoff date, manipulation of firstcome firstserved policy, allocation of spectrum to dual technology applicants, ignoring ineligibility of STPL and Unitech group companies, nonrevision of entry fee and transfer of Rs. 200 crore to Kalaignar TV (P) Limited as illegal gratification.   
"The charge sheet of the instant case is based mainly on misreading, selective reading, nonreading and out of context reading of the official record. Further, it is based on some oral statements made by the witnesses during investigation, which the witnesses have not owned up in the witnessbox.  
"Lastly, if statements were made orally by the witnesses, the same were contrary to the official record and thus, not acceptable in law.
"I may add that many facts recorded in the charge sheet are factually incorrect, like Finance   Secretary   strongly recommending revision of entry fee, deletion of a clause of draft LOI by Sh A Raja, Recommendations of TRAI for revision of entry fee etc.
"The end result of the above discussion is that, I have absolutely no hesitation in holding that the prosecution has miserably failed to prove any charge against any of the accused, made in its well- choreographed charge sheet."