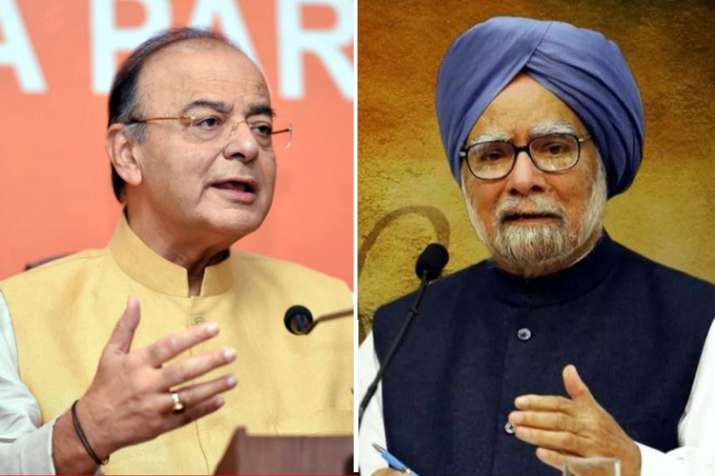 On second anniversary of demonetisation, the ruling BJP and the Congress-led opposition are targeting each other today. While Finance Minister Arun Jaitley defended the note ban by saying that it helped in formalising the economy and creating more resources for the poor, former prime minister Manmohan termed it an "ill-fated and ill-thought" exercise. In a sudden move that took everyone by surprise, PM Modi had on this day in 2016, announced a ban on the currency notes of Rs 500 and Rs 1,000.
BJP asks Congress 10 questions on demonetisation
Accusing the Congress of criticising demonetisation for hiding its acts of corruption, the ruling BJP on Thursday put up 10 questions for the party to explain their hard stance against PM Narendra Modi's initiative, which the government claims worked to formalise the economy and broaden the tax base. 
Read the full story here
Demonetisation a self-inflicted deep wound on Indian economy, says Arvind Kejriwal
Questioning the rationale behind the Modi government's note ban move, Aam Aadmi Party (AAP) convener and Delhi Chief Minister Arvind Kejriwal on Thursday termed it as "a self inflicted deep wound" on the Indian economy.
"Though the list of financial scams of Modi govt is endless, demonetisation was a self inflicted deep wound on Indian economy which even two years later remains a mystery why the country was pushed into such a disaster ?" Kejriwal said.
Demonetisation created more resources for poor, says Arun Jaitley
Praising the note ban, Jaitley said that it helped in formalisation of the economy that led to more revenue, more resources for the poor, better Infrastructure, and a better quality of life for India's citizens.
Jaitley further said that it was wrong to say that demonetisation failed because the entire cash money got deposited into banks.
"An ill-informed criticism of the Demonetisation is that almost the entire cash money got deposited in the banks. Confiscation of currency was not an objective of Demonetisation. Getting it into the formal economy and making the holders pay tax was the broader objective," he said.
Read the full story here
Demoetisation was 'ill-fated, ill-thought' exercise, says Manmohan Singh
Attacking the Narendra Modi government on the for the 2016 demonetisation, former Prime Minister Manmohan Singh on Thursday urged the Centre to restore certainty and visibility in its economic policies.
The former Finance Minister also asked the current NDA regime not to indulge in any further unorthodox, short-term economic measures that could cause any more uncertainty in the economy and financial markets
Terming demonetisation an "ill-fated" and "ill-thought" exercise, Singh's statement said: "Today marks the second anniversary of the ill-fated and ill-thought demonetisation... The havoc that it unleashed on the Indian economy and society is now evident to everyone. 
"Notebandi (demonetisation) impacted every single person, regardless of age, gender, religion, occupation or creed," Singh said in a statement.
Read full story here