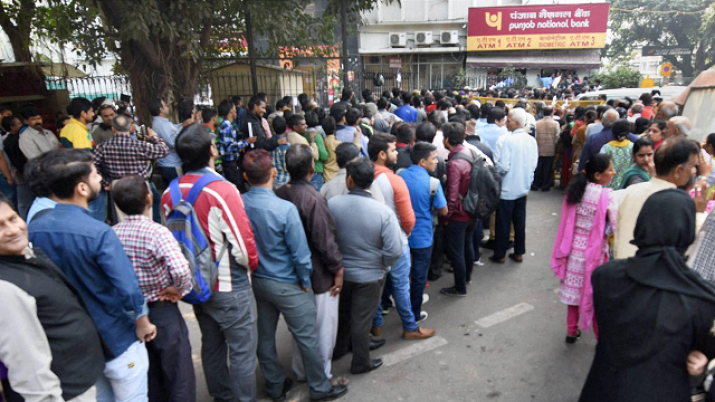 Bharatiya Janata Party (BJP) on Thursday alleged that Congress was protesting against demonetisation to hide its corruption. Using social media, the ruling party put up 10 questions for Congress to explain their hard stance against PM Narendra Modi's financial policy, which the government claims worked to formalise the economy and broaden the tax base. 
The questions, which indirectly alleged that Congress was intrinsically linked with all black money and corruption, were put up on the second anniversary of demonetisation - November 8. Two years ago today, PM Modi used his televised address to the nation to announce the ban on old notes of Rs 500 and Rs 1000 with immediate effect. The move had taken 87 per cent of India's currency out of circulation. 
The policy, the government at that time claimed, was aimed at weeding out terrorism, extremism and graft.   
10 questions for the Congress Party by BJP:
1. Why does Congress find merit in protesting against every anti-corruption measure of the Government of India? What do they fear? 
2. Why is it that wherever black money is there, the Congress is not far behind?
3. What sort of politics and anti-development mindset is this of the Congress that opposes a bold move that has widened the tax base?
4. How is a former Finance Minister, himself under radar of investigating agencies for massive corruption involving land, cash and foreign bank accounts, speaking on policy matters? With what face? 
5. Mr Anand Sharma, a Congress leader, had personally opposed demonetisation on the floor of Parliament. In the last 2 years, India has seen an increase of more than 2 crore tax returns. Is this why you were opposed to demonetisation?
Also read | GDP worth Rs 2.25 lakh crore lost to demonetise Rs 13,000 crore: Chidambaram
6. Informal economy meant exploitation of the poor and the marginalized, many of whom came from lower middle class. Demonetization has lead to formalization of the economy, which has empowered them. Why is Congress opposing that? 
7. Is the Congress party living in a state of denial that it cannot see the surge in GDP numbers, the 'Ease of Doing Business Rankings' and Global Competitiveness Index? Why are they unhappy that India's economic prowess is being recognized world over? 
8. Why is it that whenever India's standing in the world increases the Congress takes to defaming India and creating an atmosphere of gloom to mislead the people? 
9. Congress now remembers small business but did the UPA think of this sector even once? Except tax terror, raid raj and arbitrary policies, what did Congress do for small businesses? 
10. Can the Congress name even one stringent measure they took during the UPA regime, which was aimed at eliminating corruption and black money? 
Earlier in a Facebook post, Finance Minister Arun Jaitely claimed that demonetisation worked to formalise the economy and increase tax base. 
"Demonetisation and implementation of the GST curbed cash transactions in a big way. With a visible increase in the digital transactions, formalisation of the economy has led to increase in the tax payer base from 6.4 million in the pre-GST regime to 12 million," Jaitley said.
He added that the impact of demonetisation has been felt on collection of personal income tax. Its collections were higher in Financial Year 2018-19 (till 31-10-2018) compared to the previous year by 20.2%.  Even in the corporate tax the collections are 19.5% higher, the finance minister's blog claimed. 
Also read | Arun Jaitley praises note ban, says it led to formalisation of economy, created more resources for poor