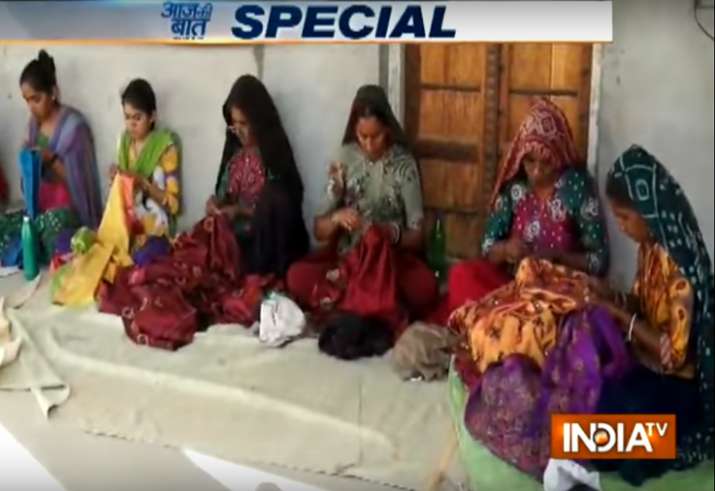 It is very rare that the immense talent that India's rural population get showcased at international platforms. But there are people and organisation that work to promote the crafts from remote regions from the country through self-reliant groups. 
One of such organisation is Shrujan which works in the remote villages of Kutch districts in Gujarat. Shrujan has changed the lives of hundreds of women of Kutch's remote areas who have never even seen a city but their work is famous throughout the world. 
The embroidery, a craft passed on to the women of the region through generations, was used by the people for their own use. But Shrujan has helped the women to take this craft to international markets. 
The NGO takes the product manufactured by the women of the region to international exhibitions and fashion shows. In international fashion shows, models walk on the ramp wearing clothes produced by the women of the Kutch. 
Currently Shrujan works with 16 different styles of embroidery, done by 3,500 women across 100 villages.
The fame and appreciation for the craft is such that a woman named Jassi Ben has been honoured by the UNESCO. 
The organisation has helped women self-reliant and independent. The income of the family in the region has increased substantially. 
The organisation was founded by Chandaben Shroff in 1969 when she travelled to Kutch to assist with a famine relief project. During this trip, she realised that the rural women excelled at the local art of embroidery. She was impressed by the talents of the women of the region and decided to take the craft to other parts of the country as well as the world. 
She developed a unique, sustainable means of income generation for village women and got the local women to produce saris with exclusive embroideries. 
The first exhibition of saris was held in October 1969 in Mumbai with considerable success and since then hundreds of such exhibitions have been organised by the organisation.