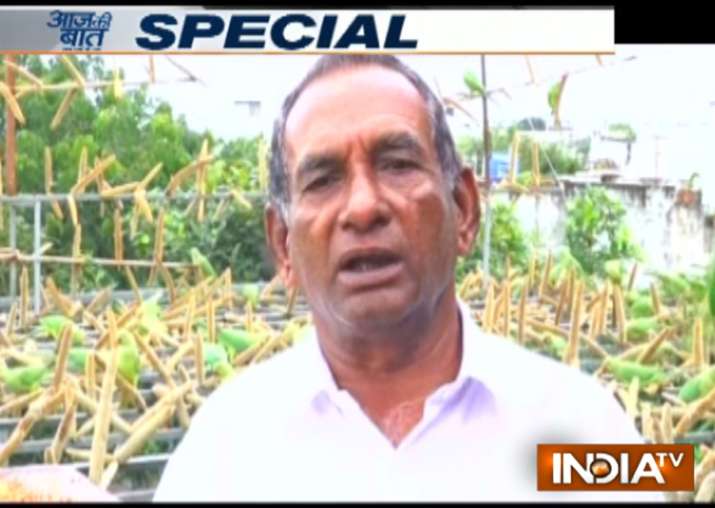 Harsukh Bhai, a resident of Junagadh district of Gujarat, was just a common man before he decided to dedicate his life for a cause which may sound bit strange for many. Fondly referred as 'the birdman', Harsukh Bhai, who is in his 70s, is today known for his noble work of feeding thousands of birds daily. 
From last 17 years, everyday around 10,000 birds including sparrows visit Harsukh Bhai's house. It all started in 2000 when Harsukh Bhai met with an accident and had a fracture in his leg. While he was resting at his home to recover from injury, one of his friends got some pearl millet from his farm. Harshukh Bhai hung one of these cobs on his balcony and this was the turning point in his life. Harshukh Bhai's this act attracted a parrot and gradually their number increased. This made him feel to do something more for these birds. 
Few days later, he realised that there was not enough space in balcony to feed the birds. Harsukh Bhai then got some old pipes, drilled holes in them and fixed the pearl millet cobs allowing the birds feed on it comfortably. 
A class 5 dropout, Harsukh Bhai then decided to use his farm land for the purpose. He made a stand of old pipes and fixed it in his farm land. Today, the 

stand is huge enough to hold 2,700 pearl millet cobs at once.
Harsukh Bhai and his family members today change the cobs twice a day to let the birds feed on it. 
According to an estimate, Harsukh Bhai, who joined his family business, spends around Rs 1.5 lakh every year to feed the birds. 
He was also bestowed with Srishti Samman award for bird conservation by former President Pranab Mukherjee.