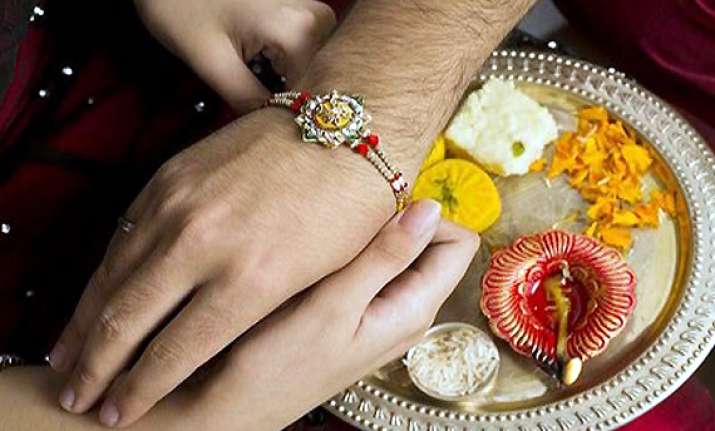 Most of you would have seen Tom and Jerry, what does that remind you? If my guess is right, you were just thinking about your brother and sister.
Remember, those silly fights over food, money, and sneak-outs at nights? These are just a few of some very sweet and precious memories that we all still have.  
The fondest memories are of special occasions like Rakshabandhan and Bhaiya Dooj. 
The purpose of celebrating Rakshabandhan is to cement the solid bond between brothers and sisters.
The festival is widely celebrated across India, Nepal and Mauritius.
On this day, a sister applies 'tilak' (a mixture of holy turmeric and rice seeds) on her brother's forehead and wishes for his long life, success and health. This year Rakshabandhan is being celebrated on 21st of August.  
Every year this festival is celebrated on full moon day of the 'Shravan' month, that marks it auspicious ending.
This day a sister keeps fast and prays for the health and long life of her brother, then she ties him a band signifying the symbol 'Rakhi' and breaks her fast.
There is this old saying that Rani Karnavati, widow of Maharaja of chittor, sent a 'Rakhi' to emporer Humayan seeking his help to protect her from enemies.
There is another saying that every year Godess Yamuna used too invite her brother to come to her house for lunch, but due to his responsibilities (taking note of death of human beings), he always had to excuse himself from the visit.
Once Goddess 'Yamuna' got very angry and was upset over his brother and that year she didn't invite him for lunch.  
Feeling his guilt on upsetting 'Yamuna', Lord 'Yama' decided to pay a surprise visit to his sister. That day no human being died as Lord 'Yama' was busy visiting his sister.  
Goddess Yamuna was so happy that she prepared numerous dishes for her brother and prayed for his long life and asked him to come and visit every year this day.  
On this day, girls decorate their houses and prepare mouth-watering sweets especially for their brothers.  
Earlier even brothers used to excitedly wait for this occasion for buying gifts and jewellery for their sisters.  
They used to save their pocket money in order to buy something in return. Nowadays, the precious occasion is restricted to just phone calls, e-mails, couriers, and e-greetings. The significance has been blurred with the advent of internet, cellphones and iPhones.  
This Rakshabhandhan, we hope each sister gets to meet her brother and celebrate this day with sincerity and devotion. Happy Rakshabandhan!