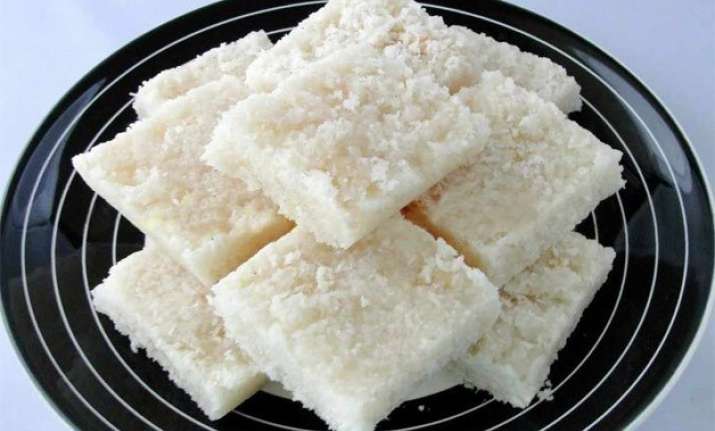 New Delhi: With Navratri/Durga Pooja going on, the entire country is filled with the colors of festivity.
One can experience different vibes in the atmosphere these days and that's what adds to the zeal amongst people.
Being a true Indian, we have a habit of saying 'kuch meetha ho jaaye' at every moment of celebration. So in such a scenario, none of our festivals can be complete without touch of 'meetha'.
Using chocolates as a sweet dish might be a trend these days, however, it doesn't give the real feeling of celebration during festivals. It's the time we need our very own 'desi mithai'.
And to give your family a feel of celebration this festive season, we bring you a simple recipe of luscious 'coconut barfi' which will make you relish the festivals even more.
Ingredients:
Freshly grated coconut, mawa, sugar, elaichi powder, pistachios
Method:
Take a cup of mawa and cook it till it turns pink. Allow it to cool.
Simultaneously take a cup of sugar along with half cup of water in a pan and cook it to make thick sugar syrup.
Now add half cup of freshly grated coconut in the sugar syrup and mix it well.
Add mawa along with some elaichi powder to the coconut mixture and mix it properly.
Take some desi ghee and apply it on a plate before you place the mixture in it.
Spread the mixture properly in the plate and garnish it with sliced pistachios and press it a bit. Allow it to cool for 2-3 hours.
Slice the mixture into rectangle pieces and your 'Coconut Barfi' is ready to be served.