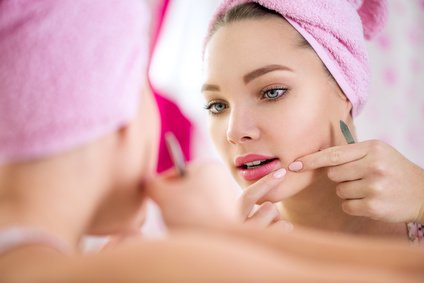 Pimples are pesky. They can bring an embarrassment for those who suffer from it. But there's no need to worry. You can get rid of pimples easily if you follow a proper skincare regime. 
Alia Rizvi, Dermatologist at Me Clinic - Masters of Esthetics, and Megha Shah, a Cosmetologist, have rolled out basic pointers that can be easily incorporated in daily beauty regimens: 
Use Salicylic Acid Face Wash
Keep your face clean. Remove your make properly. You can use a salycylic face wash.
Wash Your Face Twice Daily
Rinse your face once you get home after spending the day outside.
Exfoliate. But Don't Over Scrub! 
Do not scrub. Over washing and scrubbing can cause skin irritation.
Don't Touch Your Face with Dirty Hands 
Don't touch your face too often. Or don't lean on any surface. Here the face can get infected with bacteria.
Read the Labels of Cosmetics Before Buying
Try using brands or make-up which say on the label -non-comedogenic.
Avoid Too Much Sun Exposure 
Avoid the sun. It can increase the chance of a acne outbreak.
Use an Anti-Acne Face Mask
You can use anti-acne masks once a week.
Get Your Hormones Tested 
Acne occurs because of hormonal imbalance, so your dermatologist might ask you to get your hormones tested.
If You Have Dandruff, Get it Treated 
Dandruff is also one of the most common causes of acne on forehead or back. It's important to use an anti-dandruff shampoo suggested by your dermatologist.
Don't Wear Too Tight Clothes 
Avoid wearing tight body hugging clothes if you have acne on the body.
(With IANS Inputs)