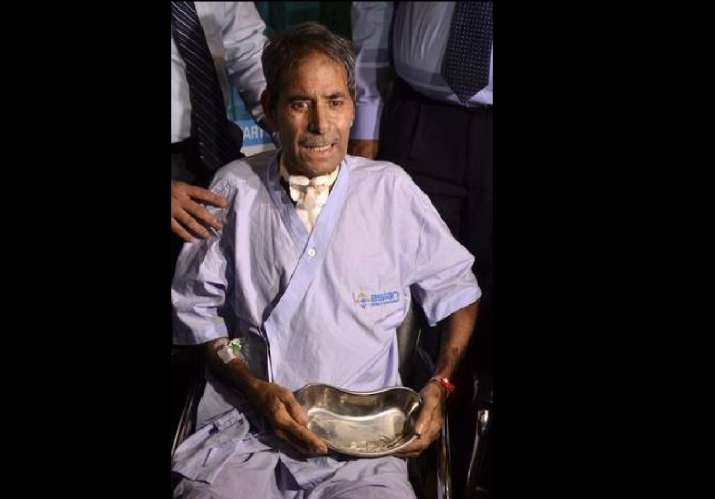 Badrilal, a 56-year-old mean is wondering how he ended up gulping more than 150 pins and needles. He wouldn't have come to know even by now if he hadn't started facing problems in eating food, walking, sitting and doing other daily activities. He is a resident of Kota, Rajasthan and was working with Indian Railways. Badrilal was declined surgery by a number of reputed hospitals across India, viewing the challenges of removing the pins and needles from his body. Above that, he is diabetic, which aggravates the case further. His family took him to Asian Institute of Medical Sciences, Faridabad where doctors diagnosed him some kind of illness. 
The doctors are finding it challenging to carry out the surgical procedures after successfully taking 91 pins out of body. Dr. Lalit Mohan Parashar, director, ENT, Asian Institute of Medical Sciences told Mail Today, "When Badrilal came to us, he was in a very serious condition. Fragile, unable to talk or eat, the chances of his survival were bleak. But we decided to go ahead and accept this unique challenging case.
Also Read: A woman gets death threats for piercing her 6-month-old daughter's cheeks! Here's what happened
Badrilal's survival chances were remote 
"At first, we carried out a CT scan besides an endoscopic procedure for proper diagnosis and we were astonished to discover that he had more than 150 pins pierced in different parts of his body. Majority of the pins were pricked in the neck. The most challenging task was to remove those pins which were pierced in the vital nerves, arteries and organs like respiratory and food pipe, esophagus and the carotid artery (which supplies blood to our brain)."
The doctors also told that some of the pins in his body were rusted, which implies that they have been in the body for more than six months. They said that the patients have suffered with the problem due to many reasons, be it social, environmental, genetic or biological. Even the educated population can suffer from this problem. 
Also Read: Viral Story: This 7-year-old boy in China has better 8-pack abs than most of the men! Check pictures
This condition is led by neuro-chemical substance imbalance in the brain which can cause schizoaffective disorder. Badrilal is showing improvement with the help of pharmacotherapy and treatment for mental illness. 
How the surgery was performed? 
The surgical procedure took around six hours to complete and doctors successfully removed 91 pins from the neck of the patients, which was the greatest risk to his life. 
Dr. Parashar said, "The medical team was extra cautious while removing the pins from the carotid artery and vocal cord as a small error would have led him to coma,"
Another big hurdle in the surgical procedure was to use anesthaesia in Badrilal's case. Dr. Adil Rizwi, cardiac surgeon, Asian Institute of Medical Sciences said, ""In this case, we used tracheostomy procedure and ensured that the pins be removed with great precision because our neck is very complex as vital nerves pass through it. These nerves continuously supply blood to our brain and oxygen to other parts of the body. If the flow is disrupted, it can be fatal."
Also Read: GST Effect: Baby girl born on July 1st named GST after the new tax reform
Badrilal is now normal after the surgery like any other person of his age. But he's kept under observation for safety reasons. His son Rajendra still couldn't believe how these many pins found their way into his father's body. They came to know about it only when he started finding discomfort while doing his daily activities. 
For more Lifestlye news click here