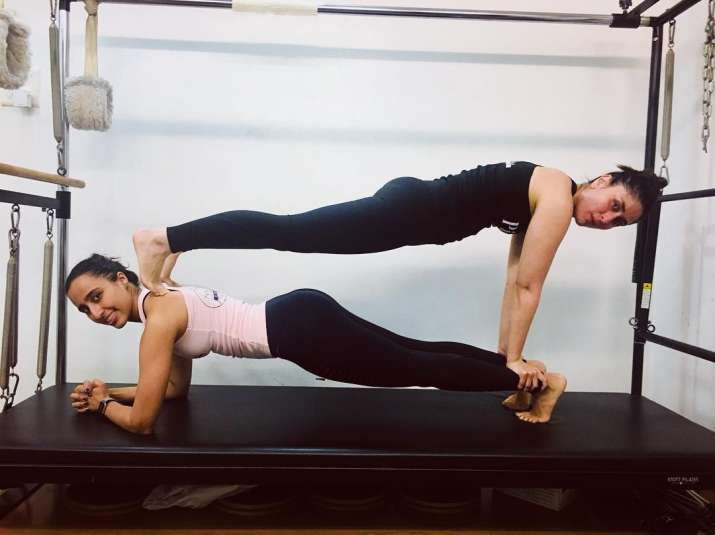 Kareena Kapoor Khan made headlines for her maternity style when she was heavily pregnant. She made headlines afterward as well and that's for her amazing weight loss journey. The actress went size zero for her film Tashan. But after getting pregnant with Taimur, she gained pretty lot of weight, but still looked the cutest mom-to-be Bollywood has ever seen. It's been a year since Taimur was born and the actress has winded up celebrating her munchkin's first birthday.
Now, Kareena Kapoor Khan is back to hitting the gym and she means business. The actress has come a long way in her weight loss journey and still working out hard to get back in shape. In a recently posted video by her Pilates expert Namrata Purohit, the 3 Idiots actress is seen doing planks among other exercises.
Kareena Kapoor was holding a plank while atop her fitness trainer Namrata. Watch the video here.
Namrata and Kareena are not only a trainer and its client, but they stick together well even outside the gym. This picture shows how well these girls gel together both inside and outside the gym. I mean, look at the trust level? One simple mistake and she could have fallen on her face.
In a video posted by Namrata Purohit, Kareena Kapoor Khan is seen doing plank variations and side planks. Watch the video here.
She captioned the video: It's been a year since Taimur was born  and #KareenaKapoor is killing her workouts, and is back to getting those washboard abs doing a series of planks and side planks with her today!! Such fun!!