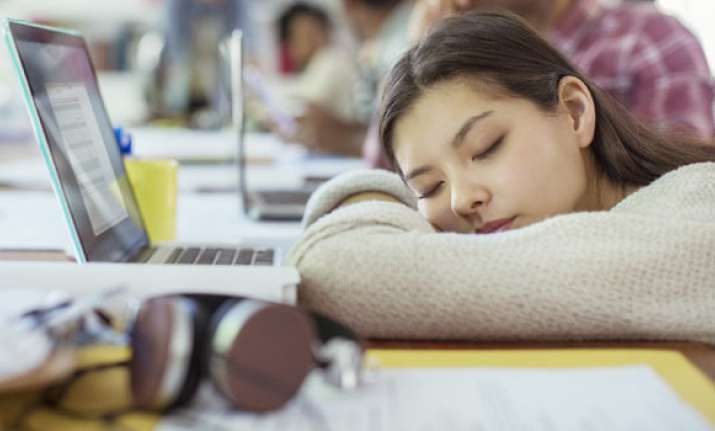 Don't we find it tough to stay awake during boring meetings and lectures? We continously attempt to defy sleepiness and pay attention to the words but all goes in vain. Do you know the reason behind it? It is neurons. Part of the brain associated with motivation and pleasure - nucleus accumbens - can also produce sleep, states a paper published in the journal Nature Communications.
Researchers based in Japan and China used chemo-genetic and optical techniques to remotely control the activities of nucleus accumbens neurons and the behaviour they lead to. As a result, the team discovered that nucleus accumbens neurons have an extremely strong ability to induce sleep that is indistinguishable from the major component of natural sleep, known as slow-wave sleep, as it is characterised by slow and high-voltage brain waves. "The classic somnogen adenosine is a strong candidate for evoking the sleep effect in the nucleus accumbens," said lead author Yo Oishi on this project from the International Institute for Integrative Sleep Medicine at the University of Tsukuba, Japan.
Adenosine has long been known to represent a state of relative energy deficiency and to induce sleep via adenosine receptors. A specific subtype of adenosine receptors, the A2A receptors, are densely expressed in the nucleus accumbens, researchers added. Compounds that activate A2A receptors in the nucleus accumbens may open safe therapeutic avenues for treating insomnia, which is one of the most common sleep problems with an estimated prevalence of 10-15 per cent in the general population and 30-60 per cent in the older population.
We often resort to beverages such as tea and coffee to keep sleepiness at bay during work. It is because caffeine blocks A2A receptors in the nucleus accumbens. The new finding will pave the way to treat insomnia and other sleep related disorders.
(With IANS inputs)