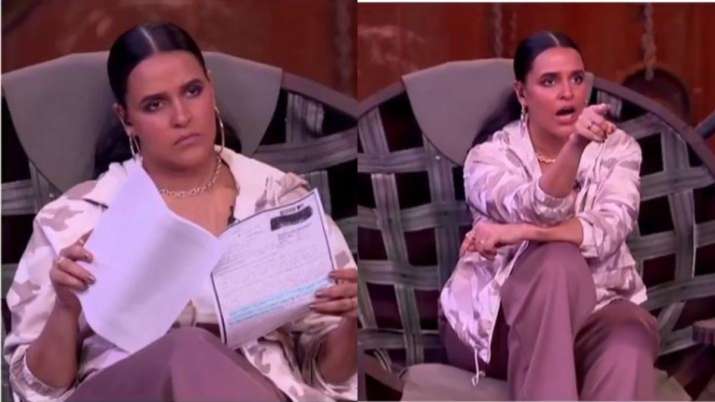 Counted amongst one of the most popular reality shows of the small screen, Roadies Revolution began a few weeks back with gang leaders Rannvijay Singha, Prince Narula, Neha Dhupia, Raftaar and Nikhil Chinapa. Every year the show brings forth a bundle of interested people and this year too the show introduced a new element which was to introduce those who have done some great work to bring a revolution in society. Roadies happen to be the most-watched shows and has a great youth fan following. The show that is known for its drama, fights, roasting, and tasks has already begun what it is known for, something which will be shown in the upcoming episodes of the show. 
Going as per the promo of the show shared by the makers, it seems as if the actress will lose her calm because of a contestant who will appear during the audition round and claim that he slapped his girlfriend when he came to know that she was cheating on him. This made Neha angry who said, "nobody gives you the right to slap a girl." Not only her, but even other judges also claimed, "Yeh Jo Tu Bol Raha Hai Na Ki Ek Nahi Paanch Ladko Ke Saath Gayi Thi… Sun Meri Baat – It's Her Choice. Maybe The Problem Lies With You."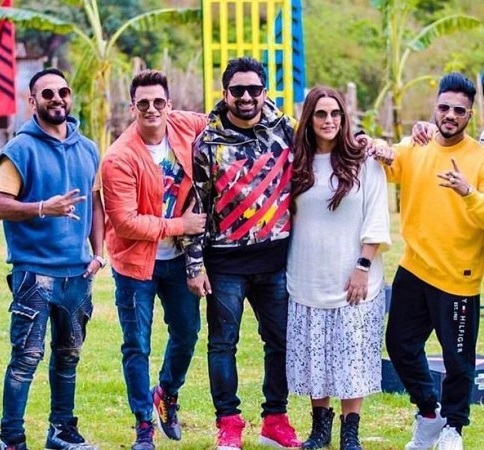 Watch out the video here:
Soon, the actress started receiving backlash for her statement about the guy and started calling her a fake feminist. Some called her hypocrite while others said that she was mad as she was supporting the girl for dating other guys while in a relationship with another. Have a look at how Neha Dhupia got trolled on social media:
Rare photo of #NehaDhupia with her 5 boyfriends, 5th one is taking the picture 😝: pic.twitter.com/xJ44B7D7RT

— Himanshu Seth (@tereMaalKaYaar) March 12, 2020
we wanna see her with 4 others guys
#NehaDhupia

THE MOST WORRIED HUSBAND IN INDIA RIGHT NOW -: pic.twitter.com/K5w2tQnmYb

— THE | Epic Blogger | (@Kush_official_) March 12, 2020
If u are a girl be like them.
Not like #NehaDhupia ( It's her choice).
Feeling Proud of these women's. 🙏
*Me Rahu ya na rahu Bharat ye rehna chahiye* 🇮🇳🇮🇳♥️♥️ pic.twitter.com/FPOyL9jNeK

— Vishal Joshi 🇮🇳 (@ErVISHALJOSHI) March 12, 2020
Ram Ram ji 🙏 Pls don't expect #NehaDhupia to unbiased advice on cheating 🤣 She will play the #Victim card as she is a #fakefeminism product herself😂 Afterall her husband is a product of HER cheating as he was in relationship with another woman 🤣 https://t.co/SV6jNgTBzq

— PAYAL ROHATGI & Team- Bhagwan Ram Bhakts (@Payal_Rohatgi) March 12, 2020
Me to Prince Narula, Ranvijay, Nikhil Chinapa after #NehaDhupia 's comment pic.twitter.com/YXyJnKcpNE

— कुशाग्र सिंह (@__kush____) March 12, 2020
fake feminism on the rise ! thanks Neha Dupia for showing what a fake feminist looks like . Picking sides based on gender rather than logic is a pretty fucked up shit , WAKE THE FUCK UP PEOPLE ! #NehaDhupia #fakefeminism

— mohit (@thelonelupa) March 12, 2020
#NehaDhupia
Girl :- I slapped a guy

Neha :- 👏 👏

Boy :- I slapped a girl @NehaDhupia :- pic.twitter.com/3zdvnqXEIP

— ꒒ꂦꌗ꓄ꌗꂦꀎ꒒✰☽ (@Warishacasm1) March 12, 2020
Memers after hearing #NehaDhupia thoughts about relationships:- pic.twitter.com/wvIZ8WwFZY

— Ajay Anuragi (@Lazy_Anuragi) March 12, 2020
@NehaDhupia
😂😂
You are epic#NehaDhupia #Roadies pic.twitter.com/m5KMLC5LJW

— Rishi Raj Sharma (@rishisharm) March 12, 2020
Aaj ka gyan...though repetitive, kuchh bhi ho...say it loud 'IT'S HER CHOICE' : Devi #NehaDhupia pic.twitter.com/8dQE5BheJA

— Abhinav Narayan (@_abhinavnarayan) March 12, 2020
@NehaDhupia having 5 boyfriend and it's her choice , and the problem lies with the loyal boy !! Sasta maal fukna bandh karo dumbhead #dumb_roadies

— pankaj saini (@panku_lucky) March 12, 2020
#hypocritenehadhupia
Hypocricy at its best,splash some water on face aunty ji, @NehaDhupia
People like you are really mocking the serious/prestigious issue of #feminism #shameonyou #shameroadies #antisocialist

— Rajbeer paul (@paul_rajbeer) March 12, 2020
On one hand, where the leaders will be upset about the above contestant's behavior, there will be a 22-year-old boy who will win their hearts through his commendable job. The celebrity leaders in Roadies Revolution will Malhar Kalambe who showed commendable courage and managed to clean more than 3800 tonnes of garbage through beach clean-ups in 125 weeks. Malhar has been awarded by the UN volunteers of India, Ministry of Youth Affairs and Sports, Government of India and felicitated by the UN environmentalists.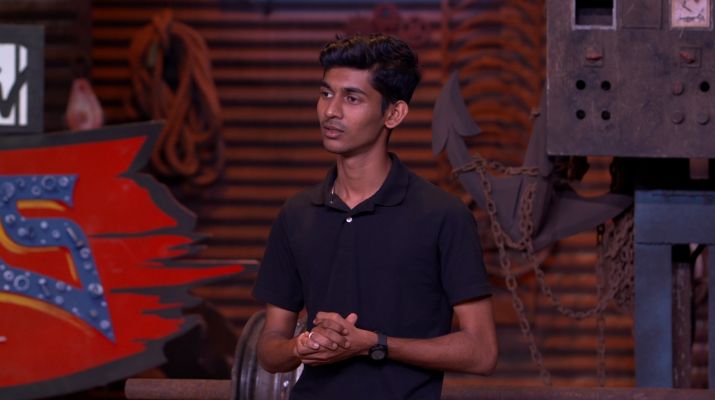 Tune in to Roadies Revolution this Saturday at 07:00 PM to witness the first Roadies Salute by all the leaders and his glorious journey ahead.
For all latest news and updates, stay tuned to our Facebook page
More Bollywood stories and picture galleries