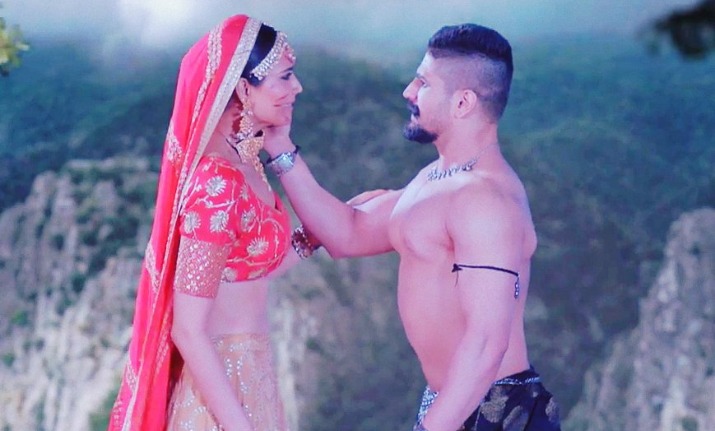 Ekta Kapoor's third instalment of fictional TV series Naagin went on air last weekend. The show which stars Karishma Tanna, Anita Hassanandani, Surbhi Jyoti and Rajat Tokas has finally opened on small screen. To say the least, the fictional daily soap has rekindled our childhood memories of watching Nagina on Zee Cinema on weekends. Naagin 3 has opened to a promising start but only this week's BARC report will tell how the show has fared on the smallscreen. The TRP numbers are also crucial to determine whether the new Naagins have managed to hold on to its reins after Mouni Roy and Adaa Khan's departure from the franchise. Let's have a look at the first impression of Ekta Kapoor's Naagin 3.
Meet the spoilt brats of Naagin 3, Andy Sehgal, Yudi and friends
Andy Sehgal played by Chetan Hansraj is adamant on building a hotel on by pulling down a temple and a mansion. Despite being warned by the priest that the snakes protect the temple, he proceeds with his evil plans of shutting the religious place. He joins hands with his spoilt brat son Yudi and his friends to carry out his malevolent plan.
Ruhi aka Karishma Tanna's sizzling chemistry with Vikrant (Rajat Tokas)
The Naagin Ruhi is celebrating the boon of getting a human avatar with his lover of 100 years Vikrant. The rich brats arrive the spot and sabotage their intimate moments. They molest Ruhi and kill Vikrant. With the help of Mahir (Pearl V Puri) they escape the site. Ruhi however, manages to capture the images of the perpetrators and vouches to avenge Vikrant's death.
#SpoilerAlert

Can't wait for #Naagin3? We're giving you a small glimpse of the thrilling episode that awaits you tonight! Don't forget to tune in at 8PM! @KARISHMAK_TANNA @anitahasnandani pic.twitter.com/kDeq9FA1Kq

— COLORS (@ColorsTV) June 2, 2018
Veere Di Wedding cast Kareena Kapoor Khan, Sonam Kapoor's cameo in Naagin 3
Veere Di Wedding actors Kareena Kapoor Khan, Sonam Kapoor, Swara Bhaskar and Shikha Talsania also joined the first episode of Naagin 3, however their first impression remains ineffective.
Kareena Kapoor Khan and our favourite Veeres visited the sets of #Naagin3 today. You don't want to miss it, do you?

Watch the episode on 2nd June, 8 pm only on @ColorsTV! pic.twitter.com/Hajvpg7I1x

— Kareena Kapoor Khan (@KareenaOnline) May 28, 2018
Fast-forward to six months later
The second episode introduces us to Andy and his two wives played by Rakshanda Khan and Pavitra Punia. Yudi is all set to tie the knot with Bela (Surbhi Jyoti) who is a shy and simple girl. While his marriage is on cards, he continues to flirt with Vishaka (Anita Hassanandani) who is at the same hotel. Vishaka lures Yudi to a secluded place and shows herself as a shape-shifting Naagin. The second episode reveals how Vishaka is actually Ruhi who is hell-bent to take revenge from Yudi and his friends. She manages to kill one among the ten, who were responsible for Vikrant's murder.
Naagin 3 Twitter reactions: Twitterati give their verdict; Yay or Nay?
Twitter is full of mixed reactions for Naagin 3. While some found the third instalment more exciting and fun-filled than the previous two seasons, others missed Mouni Roy and Adaa Khan as Naagins.
Am I the only one who feels that Season 3 actually started on a slightly more interesting note than Season 2 ? I gave up on S2 after the first few episodes. #Naagin3

— Nikkie (@just_being_self) June 2, 2018
Also Twitter is smitten by Anita Hassanandani's performance, who has overshadowed Karishma Tanna and Surbhi Jyoti in the second episode.
You nailed it today @anitahasnandani 🐍❤️
But the only complain I have is that #Naagin3 is a weekend show, which means I have to wait for 6 days to see you again😢
The episode was killer though ❤️ pic.twitter.com/zmZwFZNSC3

— Mahima kulkarni (@mahi_kul) June 3, 2018
When @anitahasnandani is on screen 😍 , look at your latest Fan @ipriyanksharmaa totallly smitttten ... Nahaana Bhool gaye @ektaravikapoor #Naagin3 pic.twitter.com/dQFX01fg2S

— Vikas Gupta (@lostboy54) June 3, 2018
I started watching #Naagin3 for Surbhi Jyoti with very low expectations but i'm actually looking forward for more episodes.
Mahir's character is not very new but I really like his character idk why.

— DK.🎬 (@CrazyFangurl_) June 3, 2018
What was Surbhi thinking choosing this show after being part of Qubool Hai's supernatural shitfest. Choosing a show that got the same shit? #Naagin3

— ↠🅝↞ (@niiikkiiix) June 3, 2018
#Naagin3
One word for this Jodi
Ruhi + Vikrant
Anything serious funny or weird😂😍❤️ pic.twitter.com/6TZYXidby8

— AnzCreations-Meerab (@meerab111) June 3, 2018
#Naagin3
I doubt Andy Seghal acting kar raha hai ya teacher ko ratta rataya lesson suna raha hai🤣🤣🤣🤣his dialogue delivery👍😢👍😢👍😢supersonic speed... abba dabba dabba hi dabba of script😂😟😟😟😟

— AnzCreations-Meerab (@meerab111) June 2, 2018
Naagin 3 Time: Where and how to watch the repeat telecast?
Naagin 3 which premiered its first episode on June 2, 2018, will be aired every Saturday and Sunday at 8:00 PM on Colors TV. You can watch Naagin 3 repeat telecast today at 3 PM only on Colors TV. It will be repeated again on Wednesday at 9:00 AM as well. Or you can download the Voot app to watch the show anytime, anywhere you want.