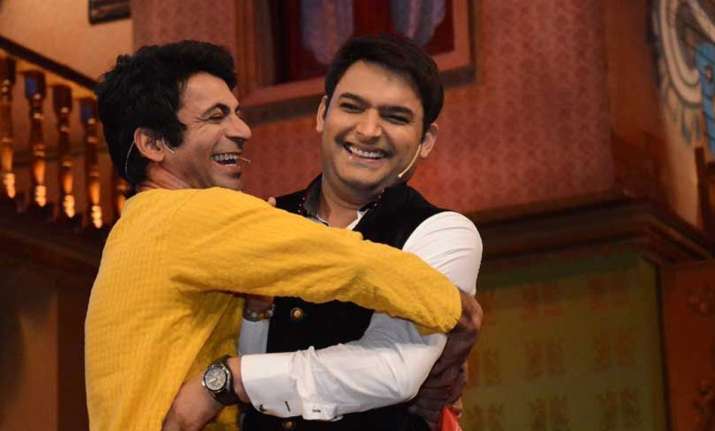 Kapil Sharma, the ace comedian who saw it all in the span of one year in 2017. While his show The Kapil Sharma Show became a hit among audience, he faced a downfall in his career post his tiff with co-star Sunil Grover. The back-to-back untoward incidents opened up the industry's dark abyss for him. But Kapil Sharma was unmoved by the negativity thrown at him. He embraced this phase of his life and accepted them as a new learning experience.
He said his downfall got extra attention as he is a public figure.
"I had heard that there are some disadvantages after you make a name for yourself, which one faces in this form. But now I understand it, and have learnt not to take it to my heart," Kapil told IANS here.
"One should keep working. Out of the millions of people on the planet, there won't even be one who only has good incidents to narrate. People do go through downfalls. Everyone faces ups and downs just because we are popular, the world gets to know our downfalls," he added.
Kapil became everyone's favourite with his comical gigs, but the good run ended after a violent fight with co-actor Sunil Grover on a flight made headlines.
What ensued were talks about his drinking habits, about his newly acquired high-handedness and for making his guests wait for long hours -- all leading to bad PR and TRPs for his second show "The Kapil Sharma Show". It went off air, with a promise to be back soon.
What is the learning that Kapil got after the episode?
"I have learnt not to trust everyone blindly. One doesn't know whether the people around you want your good or just want to do good for themselves. There are many people who fall under the second category."
"One should focus on their work. Duniya kya bol rahi hai dhyaan nahi dena chahiye (One should not think about what the world is saying). If you are good, your work is good, and that is enough."
Asked if the attention by media on his differences with Sunil played a major role behind him being unable to solve the feud, Kapil agreed.
"I think Sunil got more angry after seeing himself in news... Because he was not so angry (when the incident happened). I have said enough from my side, and now I don't feel like talking about it. It happens between friends but on can't hold a grudge forever. Then I will also start feeling that 'mein galat nahi hun' (I am not wrong)."
Kapil had started his journey in showbiz through a reality show.
After dominating the small screen with his hit shows, he made his Bollywood debut with "Kis Kisko Pyaar Karoon", and then went on to produce his second film "Firangi", which he had come to promote in the capital when it released last year.
The film failed. But Kapil, who has started shooting for the comeback of his TV show, is optimistic.
"I feel very nice that people love me so much. I wanted to come on TV, and not even dreamt of being in films. Now, I have done both...I feel very nice and hope this love keep pouring and I keep on doing the good work."
(With IANS Inputs)