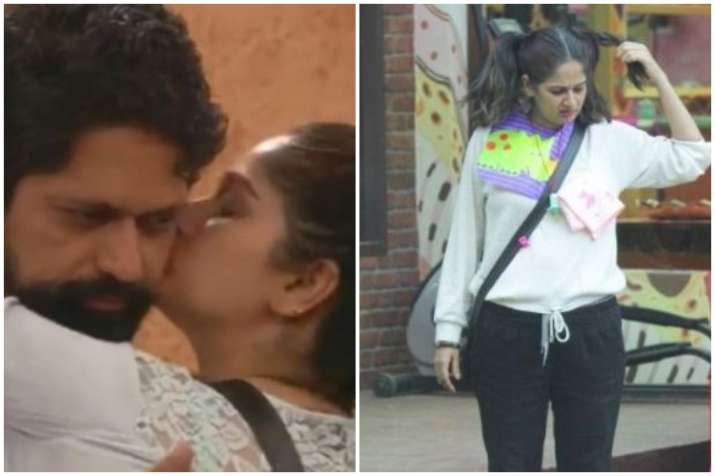 Bigg Boss is one of the most popular shows of the small screen. This time, its Marathi version is grabbing the eyeballs. Yes, the show never fails to surprise us and playing love card is considered as the best strategy to stay longer in the house. While in the Hindi version of the show, we have seen many couples getting cosy on cameras, but two contestants of Bigg Boss Marathi are a step ahead. Yes, we are talking about Resham Tipnis and Rajesh Shringarpure. Both of them were spotted kissing in the house. The latter is married with two kids.
This was quite evident that both the contestants were fond of each other. Rajesh was often seen flirting with the lady and she also supported him. People were still confused if it was friendship or something more than that until Rajesh returned from the secret room. He openly confessed his love for Resham and when she told him that she is scared of his wife, he turned to camera addressing his wife confessing the feelings he had for Resham. He also hoped that his better half will understand his love for his co-contestant.
Is this real or fake? Well, only these two contestants can give the answer.
Twitter has reacted on the whole issue, have a look at tweets.
Hahhah.. #ReshamTipnis I don't thing she loves him.. both want to stay in game. #RajeshShringarpore trying to confess and confirm repeated from her but she don't may b under pressure she might b.. if media ask them tommorrow they will reply we r just #Friends

— Chaitraly Deshmukh (@ChaitralyD) May 16, 2018
Dear Rajesh's wife,

Either you enter the BB house to slap this guy or send the divorce paper in the house !

We Marathi people can't see our sanskruti ruined like this ! #BBMarathi #BiggbossMarathi pic.twitter.com/dWXZk6wYn3

— . (@SagarVlog) May 14, 2018
While talking to Times Of India, the host of Bigg Boss Marathi, Mahesh Manjrekar stated that he is going to be very strict in the coming Saturday episode.