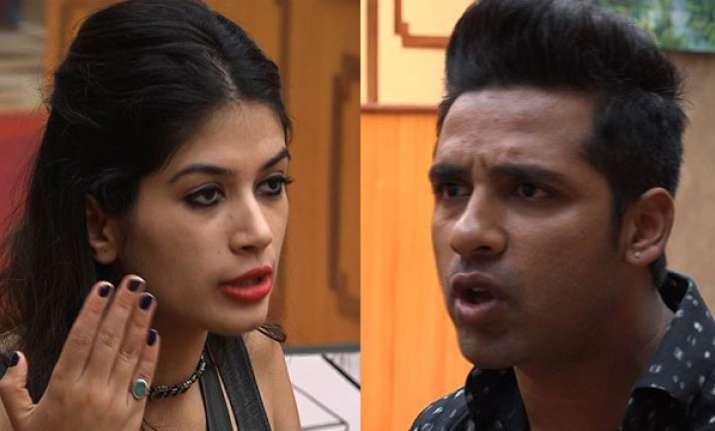 The lovebirds of Bigg Boss 11 Bandgi Kalra and Puneesh Sharma have been making huge headlines for their excessive PDA. Right from open flirting to sharing bed to having dirty conversation, the duo has set the temperature high in BB 11 house on several occasions. However, now it looks like Bandgi has realized that they have been taking things too far in the show. In an unseen video, the Delhi-based girl is seen scolding Puneesh for touching her without her consent. 
Bandgi asks Puneesh to justify his actions as he did it without her permission. She also asked how he could do it since they were not married and were not going to get married soon. Puneesh took this in jest and said that he has taken it 'for granted'. Watch the video.
In another clip, Puneesh is seen telling Bandagi that she would be his last relationship and they are seen discussing his past.
Meanwhile, Puneesh and Bandgi emerged as the villains of Bigg Boss 11 house this week. As part of one of the worst luxury budget task of the season, where everything from throwing chili power in each other's eyes, to cutting people's hair to putting used waxing strips on people's faces became the new normal, Puneesh and Bandgi sure managed to get a lot of negative votes for themselves.
This week's Bigg Boss 11 nominations brought out a lot of changes inside house. Bandagi was recently seen asking Puneesh for a break up as well and now her scolding him like this. Do you think that the software engineer is now getting worried about her reputation outside the BB 11 house? 
Also Read: Bigg Boss 11: Shilpa Shinde fans come out in huge support, 'Shilpa winning hearts' becomes top trend
For more entertainment news and updates, follow our Facebook page