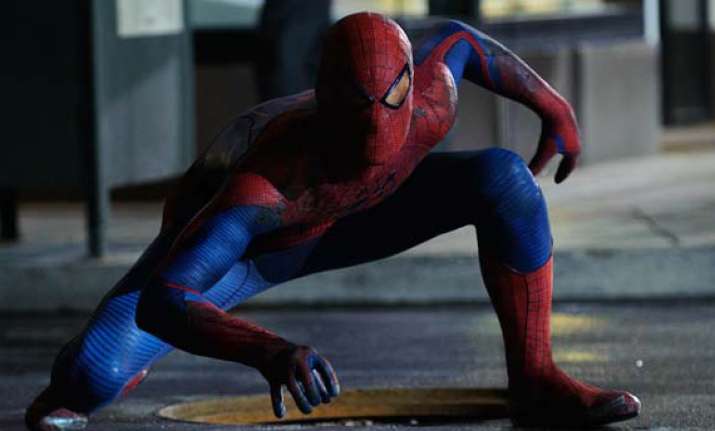 London, June 19 : Andrew Garfield, the latest actor to incarnate Spider-Man, says he made sure that the iconic character was served as it should be.
No wonder the word coming up repeatedly from the producers of the reboot, the director and his co-stars to describe him is "committed."
Speaking at the UK gala premiere for 'The Amazing Spider-Man" on Monday evening, the 28-year-old actor said he didn't go as far as method acting.
"I don't know what that word means, but I definitely was dedicated to it and wanted to make sure that we did our job as well as possible and made sure that the character is served in the way that it should be," he said.
One of the ways in which he devoted himself to becoming Peter Parker and his alter-ego, Spider-Man, was following an intense fitness regimen for six months, six days a week, plus three months of rehearsals and training for his stunt work.
Director Marc Webb said he was impressed with the way Garfield inhabited the transformation from boy to spider.
"He was so committed to the physical dimension of the character, like he really was focused on feeling like a spider was taking over him and keeping that DNA alive and every time I would see him, his elbow would be moving a certain way and he was embodying the, like he really was, it felt like he was being taken over by a spider and when he got in the suit it really paid a lot of dividend," he explained.
Co-star Emma Stone thinks Garfield's love of the superhero since he was three make "his dedication and protection of the character totally apparent throughout the movie."
"The Amazing Spider-Man" follows the origin story of Peter Parker, the orphan boy who gets bitten by a radioactive spider and so gains unusual abilities.
The franchise reboot tells the story of how Parker - a teenager with a chip on his shoulder raised by his aunt and uncle - tries to discover what happened to his parents and faces off against his father's former research partner, Dr.Curt Connors (Rhys Ifans), in the shape of his villainous alter ego, The Lizard.
The film also tackles Parker's love story with his first high school crush, Gwen Stacy, whose father is the police captain charged with catching Spider-Man.
Martin Sheen and Sally Field play Parker's well-meaning uncle and aunt, who do their best to keep him from going off the rails.
It was Garfield, though, who listened to their advice.
"They're incredible, they're just fine actors, and people who live well and live purely and with love and that's very inspiring cause you know it's rare that you find someone who's not only a fantastic actor but a fantastically beautiful person," Garfield says, noting he took "more life advice than acting advice" from them.