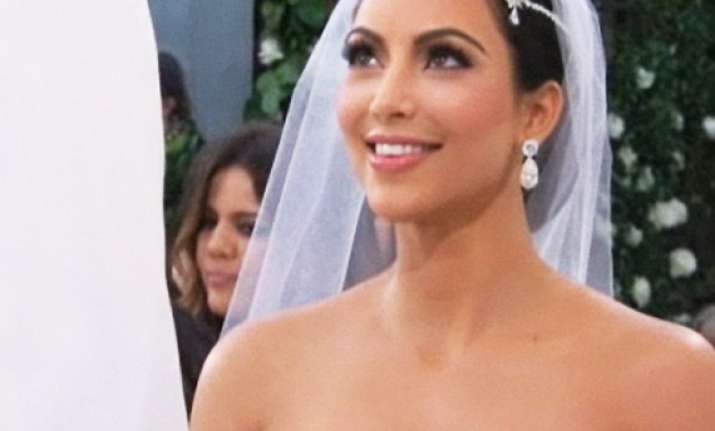 Los Angeles, Aug 22: Beaming and beautiful, bride Kim Kardashian looked a picture of happiness as she prepared to exchange vows with fiance Kris Humphries.

In a sneak peek of the couple's wedding, which took place on Saturday at a private home in Montecito, California, the 30-year-old reality star could be seen gazing up at her husband as they stood hand in hand. The Daily Mail published the pictures.




E! Entertainment let fans of the show have a brief glimpse of the wedding last night. The full ceremony will air on the network in early October.

She wore her veil off her face, held back with a jewelled headpiece containing diamonds 'drops' over her forehead.

Her make-up while striking, was a pared-down look for the reality star, and she wore her hair in a simple up-do.

Kim flashes her famous grin to her guests as she walks down the seemingly endless white and black carpeted aisle, all whilst on the arm of her step father, Bruce Jenner.




As she finally makes it down to Kris, who is equally dapper dressed in a cream peak lapel tuxedo jacket, black tuxedo pants with white shirt and white bow tie by Ermenegildo Zegna, the couple can't stop smiling at one another.

They then proceed to look around with amazement at their 450-strong guestlist before the ceremony gets underway.

And it appears that Kim looked to the biggest wedding of the year - William and Kate's - for inspiration for her bridal party.

Co-maids of honour Kourtney, 32, and Khloe, 27, are also seen in the clip in their cream strapless gowns with their brunette tresses down in loose waves.

Kim's mother Kris Jenner also takes a moment before the ceremony to pose with her two daughters and Kim's half sisters and bridesmaids, Kylie, 15, and Kendall, 14.




Kris, 55, also wore a Vera Wang-designed dress; a strapless white gown with an over-the-top bow across the bodice, while the two teenagers wear matching strapless dresses with fishtail hems.

And while Kim and the wedding party can only be described as flawless, it appears that it was little Mason who nearly steals the show, with the toddler walking down the aisle in a miniature cream tuxedo.

At first he was held by his mother Kourtney who herself had a near-fall as she walked down the aisle holding her son, who played ring bearer in the ceremony.

And while she steadied herself, though, little Mason, 21 months, zoomed down the aisle ahead of her.

Living her life in the spotlight, it was of course only moments before the message 'We are officially married!' was posted on her Celebuzz site.

The Humphries family's pastor, Joel Johnson, officiated the traditional Christian service while Kim's  stepfather Bruce Jenner walked her down the aisle.




Among the guests at the wedding, Eva Longoria, who was there with her partner Eduardo Cruz, was spotted seated in the crowd, adhering to the black and white theme in monochrome black.

Guest and E! News reporter Ken Baker, who was among guests at the lavish affair, said that Kim received a round of applause as soon as she stepped onto the grandiose aisle, but the reality star made sure to keep her cool.

'When Kim walked into the courtyard and people saw her, they started playing the music - she was with Bruce and they saw her in the dress, people started to applaud... it was so dramatic, she looked flawless,' he said.

'Kim was very low-key, she seemed really mellow and she sort of set the tone for the whole night... It was a very mellow night, Kris is a very mellow guy and it felt very intimate.'

He revealed that the whole 30-minute ceremony, which started at approximately 6.30pm, was flawless and had personal touches.

'It was well planned, well executed and everything went really smoothly,' he said.

'The ceremony ended up being only half an hour, but it went pretty quickly. The pastor was excellent. He has known Kris Humphries since he was a teenager, so he had a real personal interest in Kris and had some interesting stories.'

The pastor also reportedly warned the couple that marriage isn't always a bed of roses.

'He was also speaking very candidly to the couple, saying "Look you can go from being really happy and blissful to having a mediocre marriage, if you don't work on it."' Baker revealed.

The ceremony was watched not only by the couple's families, but also celebrity guests including Ryan Seacrest, Lindsay Lohan, Eva Longoria, Mel B, Venus and Serena Williams, Avril Lavigne and Demi Lovato.

Kim exchanged weddings rings with Kris designed by her good friend Lorraine Schwartz, who also designed her stunning engagement ring.

Following the ceremony, the action moved to a separate tent with the bride changing into a second Vera Wang mermaid gown with more Chantilly lace on the bodice and hand-cut organza petals on the skirt, with the reality star expected to change into a third creation.

Soul singer Robin Thicke introduced 'Mr and Mrs Humphries' and sang his song Angels for the couple's first dance as husband and wife, then Let's Stay Together.

Following the ceremony, bridal designer Vera Wang Tweeted: 'Wow! @KimKardashian What a joyous, beautiful, magical night! Wishing you and Kris all the blessings in the world xx Vera.

But it wasn't all plain sailing at the reception as the festivities caused neighbours to complain about the party, which saw fire marshals called to the party to quieten things down.

However while the officals advised the party to wrap up at 12am many revelers partied away until 2am.

According to wedding guests, Humphries whispered to his groomsmen, included his new brothers-in-law Rob Kardashian and Lamar Odom, 'I'm nervous' as he arrived at the alter, E! reports.

The order of service also included an emotional tribute to Kris Humphries' late grandparents and Kim's late father Robert Kardashian.

Kim wrote: 'I so wish my dad could be here today to walk me down the aisle. But I know in a way he is here, and I feel his loving presence all around me. I love and miss you, dad.'

The wedding breakfast was made by celebrity chef Wolfgang Puck with a starter of buffalo mozzarella and tomato salad, and a choice of hand-formed agnolotti with sweet corn mascarpone and summer truffles, or roast chicken with Yukon Gold potato puree, caramelized brussels sprouts and summer truffles for the main course.

Guests at the wedding were treated to high security measures including metal detectors and having their phones and cameras taken away.

Several celebrities were spotted arriving at the venue, with Mel B and her husband Stephen Belafonte sticking to the black and white dress code, with the former Spice Girl looking pretty in a white strappy dress.

Later Mel was spotted sharing a joke with Lindsay Lohan's mother Dina in the back of the car, with a sleepy looking Lindsay sitting in the front as they left the nuptials.

Talk show host George Lopez arrived in a black suit, shirt and tie, with actor-turned-showbiz presenter Mario Lopez also looking smart.

The groom also found time to tweet his excitement mere moments before arriving at the alter.

Minutes before the 6.30pm sunset ceremony, Kris Humphries wrote on his Twitter page: 'This is it!'

The bride and groom have enjoyed spectacular weather for their big day, with the sun setting over a cloudless sky as they said their 'I Do's'.

Guests began arriving at the wedding venue 90 minutes before the ceremony in blacked-out shuttle buses.

The wedding comes as a big pay day for Kim. U.S. magazine People has bought the rights for the exclusive photographs for a cool $1.5million.

Add to that her fee for the television footage, which will be aired by the E! network in a two-part special.

Plus, she has already pocketed $300,000 for the engagement announcement back in May and another $100,000 from OK! magazine for the bridal shower photos.

Just hours before saying her 'I dos', Kim tweeted her fans, telling them: 'Anxious,excited,emotional 3words 2describe what Im feeling right now @KimKardashian I LOVE U tomorrow will b MAGICAL.'

She also posted a message on her official website: 'Today is the day! I can't believe it's finally here! Thank you so much to everyone who made this day happen!!!!!'

Kim's wedding will be aired in full on the E! network two-part special on October 9th and 10th.