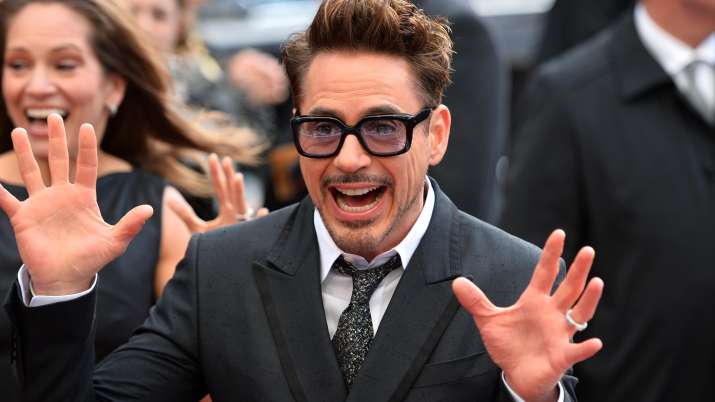 Robert Downey Jr. may have become a household name in India after he played Iron Man in the Marvel superhero film franchise, but the actor has proved his mettle in numerous movies and TV shows that he did. He made his acting debut at an early age of five in his father's film Pound. For his role as Charlie Chaplin in the film Chaplin, Robert Downey Jr. won the Best Actor nomination at the prestigious Academy Award. But it's not his filmography that makes him our forever favourite. If you've been closely following his media and fan interactions, you will realise that Robert Downey Jr. is a Tony Stark is real life and we're not joking about it. The way he carries himself without any air of being a celebrity is just too cute for words. On April 4, the Iron Man is celebrating his 54th birthday, just few weeks before his big release Avengers: Endgame. While we've talked so much about his character Tony Stark aka Iron Man, let's talk about the antics of Robert Downey Jr in real life. 
In this post, we have compiled 7 best videos of Robert Downey Jr. that are enough to prove to you that the actor himself is Tony Stark in real life. There's no other character than Tony Stark's that could've fitted him better than this. 
Who does that? Throwing red roses at his fans. Oh, it's Robert Downey Jr., he's supercool to do anything that he pleases. 
He literally gets at the media for not asking him a question first and everyone burst out laughing. 
Iron Man and Captain America fighting over the last piece of donut is pure gold. Don't miss Elizabeth Olsen aka Scarlet Witch's reaction behind. 
Robert Downey Jr. actually thanked his wife Susan Downey for saying that Matt Damon is going to win the Golden Globe Awards, so he doesn't need to prepare for the thank you speech. 
Robert Downey Jr. playing Epic or Fail with Ellen Degeneres at The Ellen Show ahead of his film The Judge. 
On the work front, Robert Downey Jr.is slated to star in the upcoming Pinocchio film and The Voyage of Doctor Dolittle. Apart from that, he will be seen in Sherlock Holmes reprising his role as the iconic detective. 
And in the last but not the least, here's Avengers: Endgame's new teaser which shows Iron Man and Captain America finally joining the hands to fight it together. If you have followed the franchise, the two superheroes have always been at the loggerheads because of the conflict of ideologies.