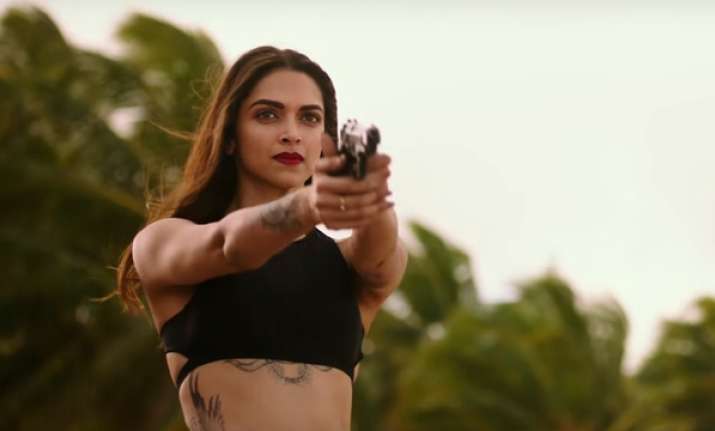 Ever since the teaser of Deepika Padukone's much talked about Hollywood debut 'xXx: Return of Xander Cage' released, we all have been a little disappointed by her miss and blink appearance.
But not anymore, as the leading Bollywood actress recently unveiled the second trailer of the movie during the premiere of Salman Khan's Bigg Boss 10 and it is all about her.
Deepika Padukone, who will be seen playing the role of Serena Unger, chose to stick to her onscreen persona as she came on BB10 as the first guest.
She has set the screens on fire with her fearless attitude and stunning looks. She has not just managed to grab the eyeballs in the trailer but has also stolen the limelight from lead actor Vin Diesel to some extent.
The sizzling beauty boasts the attitude of 'I mean business' and she is introduced in the trailer. Her black leather jackets and boots compliment her attitude pretty well.
In fact, director D.J Caruso has proved it well that this Bollywood diva is not to be messed with at all as DP is seen performing some astounding action sequences.
On the other hand, the fun-filled banter between Vin and Deepika is something one can't afford to miss and would prefer watching it in loop.
Interestingly, Deepika Padukone is seen using the Indian accent in the movie which she feels is a matter of great pride for her as she is playing an Indian girl in the movie.
In fact, justifying her accent in the movie, Deepika also stated that it's high time that the world must accept the Indian accent like we have accepted the British and Australian accent.
Well, this trailer has surely raised the anticipation level amongst the audience, ensuring that Deepika Padukone is not just a side actress in this much awaited third instalment of the 'xXx' franchise.
'xXx: Return of Xander Cage', also features, Samuel L Jackson, Tony Jaa, Ruby Rose and Nina Dobrev, is scheduled to release on January 20, 2017.