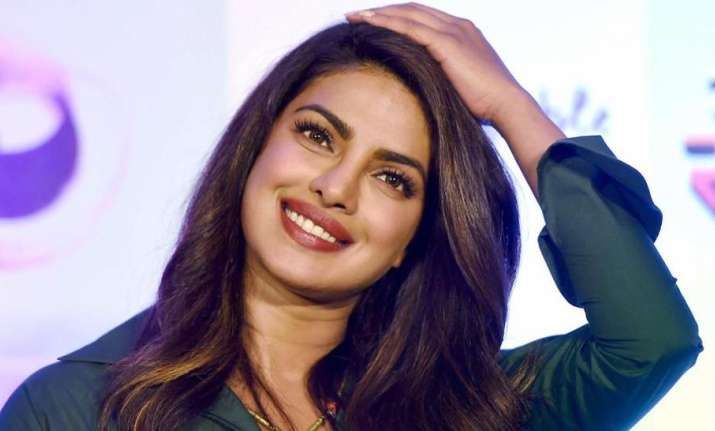 Actress Priyanka Chopra was on Wednesday honoured with a Digital Marketers Award for 'Most Effective Use Of Digital Platforms For A Social Cause'. The actor, who is serving as Unicef's Global Goodwill Ambassador, reached out to Syrian refugee children who were displaced and uprooted from their homes and loved ones. She took to social media to capture her journey and raise awareness about the life of these children who are in need of help and support.
"My association with Unicef to bring light to the issues that children face today is very important to me. Social media is a powerful tool that I can rely on to take their stories and messages across the world, especially to the younger audience," Priyanka said in a statement.
"The idea is to involve the young ones and make them aware of the situations and problems people face in different parts of the world."
She thanked the organisers Moneycontrol and Internet & Mobile Association of India for recognising her efforts and honouring her with the award.
Digital Marketers Awards stands for honouring excellence and innovation in employing digital marketing tools to effectively promote businesses, brands, causes, individuals and beyond.
Recently, Priyanka was also honoured with this year's Mother Teresa Memorial award for her contribution towards lending her support to social causes. The lady recently visited Syria where she met with refugee children.
The actor is also UNICEF's Goodwill Ambassador and is known for supporting various philanthropic activities.
The 35-year-old star's mother, Madhu Chopra, received the award on her behalf.
"I humbly accept the award on her behalf. As a mother, I am immensely proud to have a child who is so compassionate and has so much kindness in her. She exemplifies the fact the more you give the more you get. Even as a child, she was influenced by Mother Teresa and has been supporting Prem Niwas in Bareilly.
(With IANS Inputs)
For more entertainment news and updates, follow our Facebook page