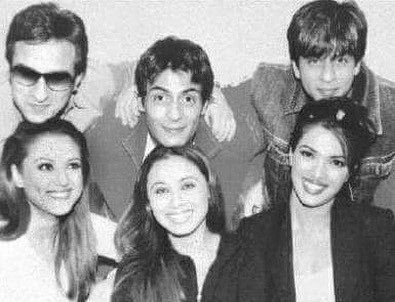 Preity Zinta is making the perfect use of social media hashtag 'Throwback Thursday' with the recent picture she shared. The picture is sufficient enough to make you time travel to the good old noughties. It's not only an old picture, but the caption she wrote is equally hard-hitting. The picture is dated back to the time when there was no social media still people 'liked' each other. And now the same people like each other's pictures.
The photo features Saif Ali Khan, Arjun Rampal, Shah Rukh Khan, Preity Zinta, Rani Mukerji and Priyanka Chopra in one frame. It dates back to the time when Rani Mukerji, Preity Zinta, SRK and Saif were already famous while Priyanka Chopra and Arjun Rampal were still exploring options in the industry. As written by the co-owner of Kings XI Punjab, the picture was clicked during the Temptation Tours of the 2000s.
She captioned the picture, "Those were the days when there was no social media and we all liked each other ! Today we like each other's comments but hardly have time to hang out like this ! #Temptationtour #Toomuchfun #ThrowbackThursday #Madness #Happiness #Friendship #Ting"
The picture has already received more than 122,000 like on Instagram. Among those who liked are Bollywood actors Katrina Kaif and Abhishek Bachchan.
Preity Zinta, Rani Mukerji and Shah Rukh Khan have shared screen space in Veer Zaara while the superstar and Priyanka Chopra featured together in Don and Don 2. On the other hand, Saif, Preity and SRK starred together in hit film Kal Ho Na Ho.
Looking at the picture, we hope we get to see all these smiling faces in a film together. Bollywood, are you listening? Cast them together!