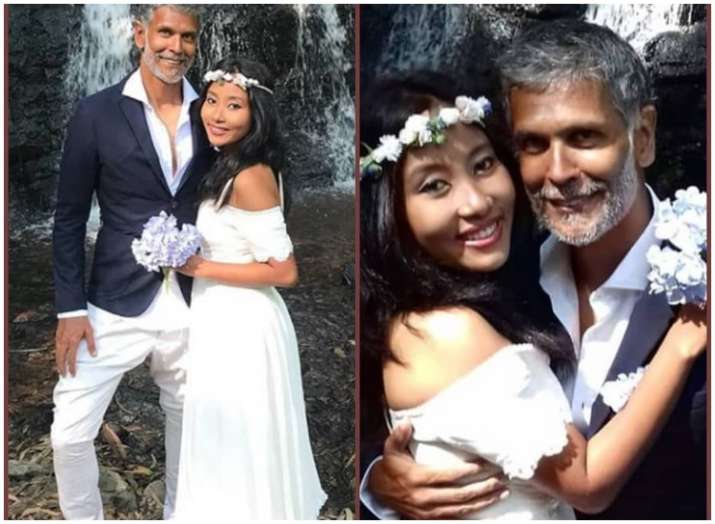 Bollywood actor Milind Soman tied the knot with his long-time girlfriend Ankita Konwar in April in an intimate ceremony in Alibuag. Undeterred by trolls and insensitive remarks, the two remained strong through thick and thick. Now, the newly-married couple got married again special barefoot wedding in a Spain. 
The eco- friendly couple who planted trees soon after their wedding were seen posting amid woods has got hitched once again. The stunning backdrop of waterfall added the beautiful essence to their dreamy wedding photos.
Taking to her Instagram account, newlywed Ankita Konwar shared pictures from her Spain wedding with husband Milind Soman. "Till eternity with each other. The barefoot wedding we always wanted in the woods with the beautiful family. #barefootwedding #santiagodecompostela #bucketlist #theultrahusband #familytime", she captioned the wedding pictures.
Ankita and Milind are so much in love and it shows in the photos from their beautiful wedding. Dressed in a white off-shoulder wedding gown with the flower band on her head, and a white flower bouquet. 
Ankita looked gorgeous as the bride while ever handsome Miling opted for the all-white look and completed his look with the navy blue blazer. The couple looked as beautiful as the picturesque background.
Recently, Milimd Soman and Ankita Konwar set the temperature soaring with their latest photoshoot.
The 52-year-old dashing fitness enthusiast had reportedly met Ankita's family in Guwahati, Assam last year to plan the wedding.
Milind surprised his fans and social media followers by sharing pictures with Ankita who is almost half his age. He indirectly announced his relationship with Konwar by sharing pictures with beautiful captions for her on Instagram.