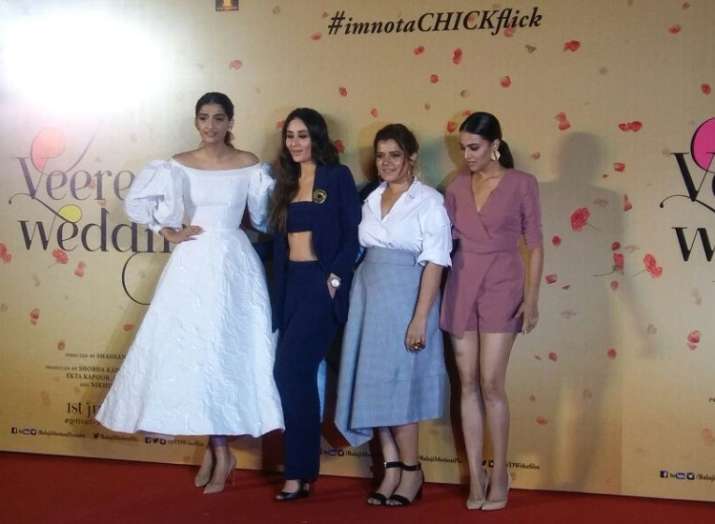 There is already a lot of buzz around Sonam Kapoor getting married to her rumoured boyfriend, entrepreneur Anand Ahuja next month. From wedding venue to what is she wearing on the D-day has already taken the internet by storm. And now, it seems Kareena Kapoor Khan has also confirmed that it is definitely happening.
At the trailer launch of their upcoming movie Veerey Di Wedding, Sonam Kapoor was bombarded with question related to her wedding, however she decided to keep mum on the topic and advised the media to focus on the film. But as we all know Kareena Kapoor is not the woman who keeps the gossips to herself.
Such an entertaining&kickass trailer!Love the #VeereDiWeddingTrailer Thoughts that we often have, questions that we've often asked &crazy friends who make our lives so much better-👍Take a bow,ladies- @sonamakapoor @ReallySwara #KareenaKapoorKhan @ShikhaTalsania @RheaKapoor 🔥 pic.twitter.com/Uy6jodXfml

— Rudrani Chattoraj (@rudrani_rudz) April 25, 2018
When asked what is the first thing that comes to her mind when she hears the word marriage, Bebo casually replied that the first name that come to her mind when we talk about marriage is Sonam Kapoor. Looks like the lady just confirmed that the bid day is pretty soon.
This is no news that Sonam and Kareena have been friends for a long time and it is obvious that they know each other's secrets really well.
If these rumours take the shape of reality, Veerey di Wedding will become Sonam's first film after marriage. It is already speculated that Sonam kapoora nd Anand Ahuja will have a grand wedding in Mumbai according to Hindu rituals at Sunita Kapoor's sister Kavita Singh's heritage bungalow in Bandstand.
The couple is rumoured to take vows on May 8th