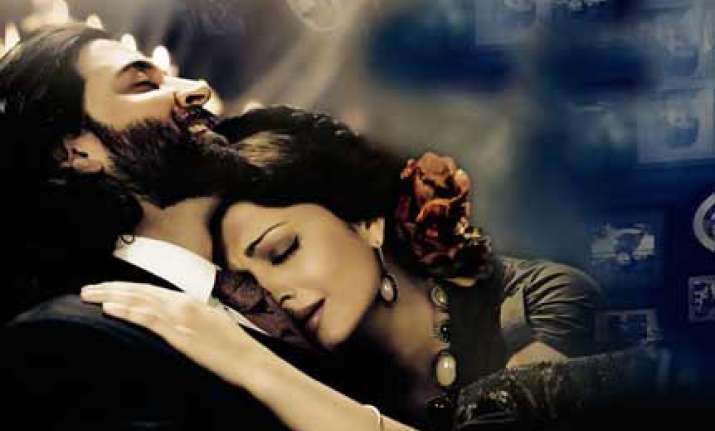 The buzz is that Sanjay Leela Bhansali's magnum opus Guzaarish is undergoing a change with too many English dialogues being changed to Hindi to increase the film's appeal in the Hindi heartland, says a media report. As  Guzaarish nears release, the Hrithik-Ash starrer is going through some last-minute changes to give it more mass appeal.
The film, which has been set in the Portuguese pockets of Goa, had a lot of English dialogue, which have now been dubbed in Hindi. The film, which had many crucial scenes in English, will now be seen with 95 percent Hindi dialogue to avoid any risk of losing patronage.  
The report quoting a source said, "The film is based in Goa, in a part where the inhabitants are Portuguese, so it was bound to be in English. However now that the film is shot and done with, the producers of the film, UTV as well as Bhansali, felt that the film needed more Hindi dialogue to appeal to wider audiences."
"The initial thought was that the film will only appeal to the gentry, but they realised that it does strike an emotional chord with one and all. They do not want to limit the prospects of the film by having more English as Hrithik's last film Kites bore the brunt of having too much of a foreign tongue."
"However, in this case, there is Sanjay Leela Bhansali and the combination of Hrithik and Aishwarya Rai, so why not go all out and target all sections? Keeping all these aspects in mind, most of the English portions were changed to Hindi.
"Now the film is 95 per cent in Hindi. The film is based on the concept of euthanasia (mercy killing) and these were shot in English. However, now the producers feel that these scenes need to be made in Hindi. At the end of the day, it is the emotions in the film which count."
The source added, "Bhansali is confident about the film and in the past too his film Black, which had a lot of English dialogue, was a blockbuster. So, he wanted to go by his coNviction even with Guzaarish. But since everyone said that some vital scenes have to be in Hindi, he agreed to this."
CEO of UTV Motion Pictures, Siddharth Roy Kapoor, denied the story. He said, "That's not true. It's a Hindi film made for audiences in India and for South Asians overseas. There is no separate dub at all." The official spokesperson of Sanjay Leela Bhansali also said, "The film was always in Hindi and shot in sync sound, so there is no question of making any changes."