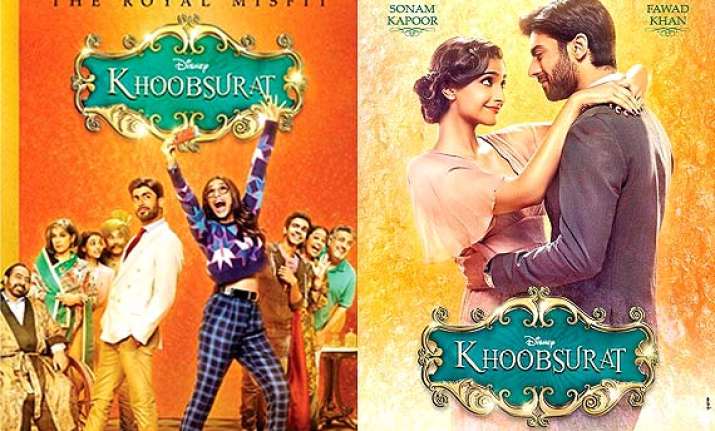 New Delhi: A brand new movie poster for `Khoobsurat` has been released.
The poster reveals that not just 'Mili' and 'Vikram' but their families too are poles apart. While Vikram's family looks all prim and proper, Mili's family looks like a typical Indian middle-class family.
 The trailer of the movie releases today, and the `Raanjhana` actress looks quirky yet chic in her modern day 'misfits meets royals' role. 
The others who can be seen in the poster are Ratna Pathak Shah, Kirron Kher and others.
 Sonam shared the colourful poster on twitter saying "The family of royals and the family of misfits!!!" The poster also seems to be colourful and vibrant, and Khoobsurat appears a film with vibrant shades of emotions in it.
 While the 'Khoobsurat kiss' teaser already grabbed many eyeballs, this poster too intrigues the audience. Sonam and her sister Rhea have sky high expectation from the film.
 The trailer of the film is supposed to be released today.
 A remake of the 1980 film with the same title, Khoobsurat stars Sonam Kapoor, Fawad Khan, Kirron Kher, Prosenjit Chatterjee, Ratna Pathak and Aamir Raza Hussain. 
Produced by Disney and Rhea Kapoor, Sonam Kapoor's sister and father Anil Kapoor, 'Khoobsurat' is directed by Shashank Ghosh and is supposed to hit the theaters on September 19