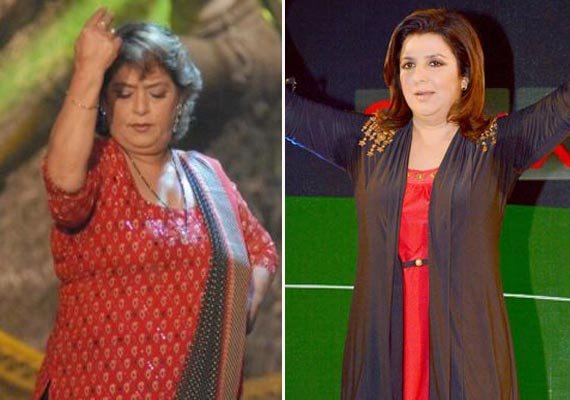 New Delhi: Saroj Khan, the veteran choreographer is not happy with Farah Khan over her spoofs in 'Happy New Year' and 'Comedy Nights with Kapil'.
Farah khan who is riding on the success of her recently released film 'Happy New Year' has made Saroj Khan unhappy on the way. Her idea of fun is not accepted universally in Bollywood. If it was Manoj Kumar who got upset after Farah made fun of him in 'Om Shanti Om', this time it's Saroj Khan for Happy New Year.
In 'Happy New Year', among choreographers called upon to teach dance steps to the team of Shah Rukh, Deepika, Abhishek, Boman and Vivaan, Saroj Khan is also one teacher. Hold on, not that she is physically present there but Kiku Sharda who is a stand-up comedian on 'Comedy Nights with Kapil' plays Saroj Khan in the film.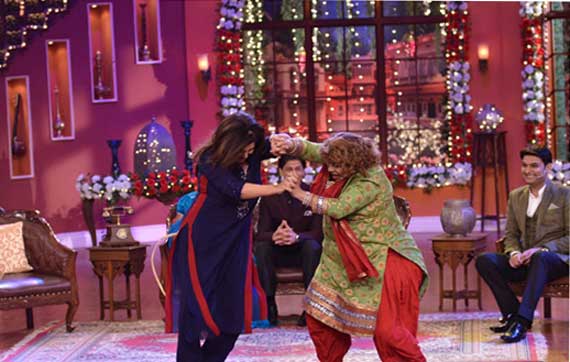 Saroj Khan has more reason to be upset with Farah. She did not poked fun at her only in the film but apparently it was during the promotions too. When Farah was on 'Comedy Nights with Kapil' to promote her film, 'Kiku Sharda' played a spoof on veteran Bollywood choreographer.
Farah's penchant for making fun of Bollywood veterans might land her in legal trouble again. But Saroj Khan is not taking the legal way as Manoj Kumar did after watching 'Om Shanti Om'. However, Saroj is not taking it lightly.
Though, hurt Saroj Khan expressed her feeling calmly and said, "Ask Farah on my behalf: Kyun mere peeche pade huey ho? Shame on Farah and Kiku Sharda and Kapil Sharma for this kind of behaviour. What has Kapil Sharma got to do with me? Why is he part of this?"
Farah and Saroj have been sharing a sour relationship for a very long time.