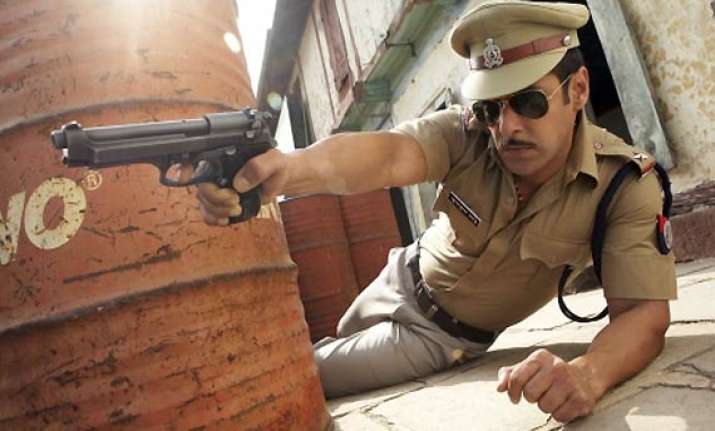 New Delhi, Nov 18: Bollywood star Salman Khan is no more willing to play the role of a policeman after the spectacular success of Dabangg.

Salman's biggest commercial successes have seen him play a cop, whether undercover, as in Wanted, or in uniform as in Dabangg. But Salman is reportedly tired of doing the khaki routine, reports Mumbai Mirror.

Salman and his family's plan to remake the Telugu film Dookudu, starring Mahesh Babu, has reportedly failed to materialise.

the Mumbai Mirror report said  Babu's sister-in-law, Shilpa Shirodkar, who was co-ordinating  with the Khans, learnt about Salman's decision from an associate close to the actor.

According to the source, Salman, who has played a cop in at least five films,  was not too keen on repeating the act.

Had he taken up Dookudu, the actor would be required to don the same avatar again. Added the source, "In Dabangg 2, which goes on floors in March, Salman plays a cop yet again. That bascially forced him to rethink Dookudu."

Salman's decision, however, has come as a major surprise to the south superstar and producer of the film Mahesh, claimed the source.

"The entire Khan family had watched the Telugu version of the film and they were very keen on remaking it in Hindi. Salim Khan had watched the film first. And then Salman saw it at Pixion theatre, in Bandra, on November 13. Salman's sister Alvira Khan and brother-in-law Atul Agnihotri wanted to produce the remake. She had flown down to Hyderabad to finalise the deal with Mahesh and his wife Namrata. Either Sohail or Arbaaz were to direct the project. In fact, even the financial modalities were worked out. The actor's decision to back out after all this, has come as a shock to Mahesh," added the source.