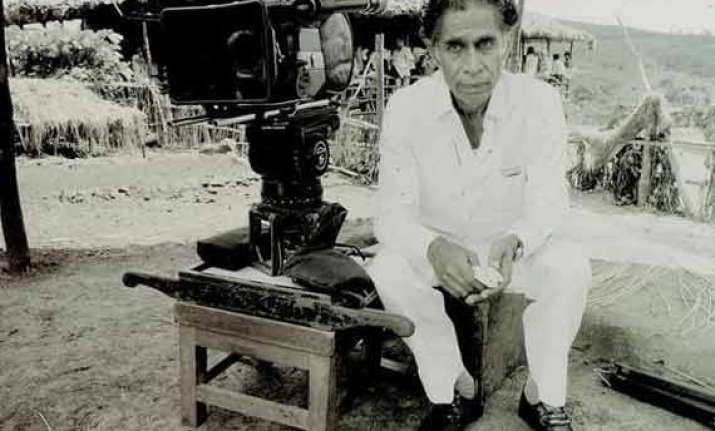 Bangalore: Renowned cinematographer and Dada Saheb Phalke awardee V K Murthy, who won encomiums capturing breathtaking images in Guru Dutt's classics like 'Pyaasa', 'Sahib, Bibi Aur Ghulam' and 'Kagaz Ke Phool', died here today at the age of 91 after ailing for sometime.
Known as 'Guru Dutt's eye', Murthy also worked with the pioneer of Indian cinema in 'Aar Paar' and later teamed up with Kamal Amrohi in 'Pakeezah' and 'Razia Sultan'. "He passed away this morning at his Shankarapuram residence here; he had only age-related issues," Murthy's niece Nalini Vasudev told PTI. The ace cinematographer is survived by his daughter Chaya Murthy.
Murthy was the first technician to be honoured with Dada Saheb Phalke Award, Indian cinema's highest honour, since its inception in 1969. He won the award in 2008. Murthy, who shot India's first cinemascope movie 'Kagaz Ke Phool' in 1959, has also won the International Indian Film Academy Lifetime Achievement Award at Amsterdam in 2005 during his four-decade-long career.
His picturisation of the song 'Chaudavin ka Chand' is still considered one of the best cinematographic works that Hindi cinema has seen and his work in films like 'Kagaz Ke Phool' and 'Sahib, Bibi aur Ghulam' won him Filmfare Awards. From his early collaboration with Guru Dutt in the 50's to his work in Shyam Benegal's mega-serial 'Bharat Ek Khoj', Murthy has also to his credit one of the most acclaimed Kannada movies titled 'Hoova Hannu' in 1993, where he made his acting debut. He never tried his luck in acting after this.
Murthy also exhibited his cinematographic brilliance for films produced by famous producer-director Pramod Charavarthy. Born in 1923 in Mysore, Murthy earned his Diploma in Cinematography from S J Polytechnic, Bangalore, in 1946. He later shifted base to Mumbai, where he met Guru Dutt. As a student, Murthy also took part in India's freedom struggle. He was jailed in 1943 and was a recipient of freedom fighter's pension.