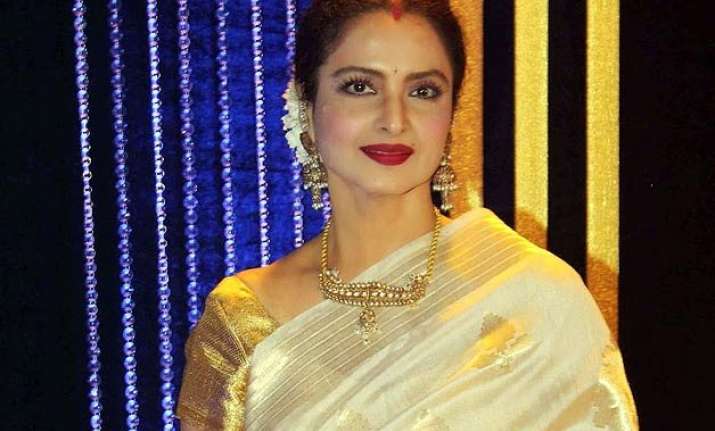 New Delhi: Bollywood actress Katrina Kaif is constantly making to the news these days, be it because of her upcoming film 'Jagga Jassoos', her Christmas celebration with the Kapoor family or her romantic kiss with beau Ranbir Kapoor on the New Year eve.
However, the recent buzz is about her another forthcoming movie 'Fitoor'. Recently, the first look of the movie was released along with the looks of the lead cast Katrina Kaif, Aditya Roy Kapoor and Tabu.
While their respective looks grabbed the eyeballs, it was Tabu's royal look that took the cake. However, it also had begun the whispers in the tinsel town about Tabu's role.
To the uninitiated, Tabu's role was earlier offered to veteran actress Rekha who had not only given a nod for 'Fitoor' but had also shot most of the sequences as well.
But as the movie was on its verge of completion, Rekha suddenly opted out of it, leaving director Abhishek Kapoor in a fix.
Although there were a lot of speculations about the reasons why the veteran actress opted out of the movie like this, there were rumours that this might be because of some creative differences between Rekha and Abhishek.
But according to the recent buzz, Rekha's ditching 'Fitoor' was because of another 'shocking' reason.
Well, reportedly, the actress walked out of the movie because her role in 'Fitoor' had an uncanny resemblance to her own life story.
Rekha was finalised for the role of Begum in the movie, who happens to be a reclusive woman who leads an enigmatic life, but is still spoken about for her relationships.
If the gossip mills are to be believed, the character of Begum is akin to what Rekha is in real life. When she realised that, she found it difficult and uncomfortable to play herself and opted out of the film. Infact, the similarities between Begum's character and Rekha were quite evident in the film's first look. Begum has been depicted as a heartbreaker and a seductress, which are synonymous with Rekha who remains an enigma.
Rekha had walked out of 'Fitoor' in May last year, after which Abhishek Kapoor roped in Tabu for the role.
'Fitoor' is an Indian adaptation of the popular Charles Dickens' classic 'Great Expectations' and is expected to hit the theatres on February 12, 2016.