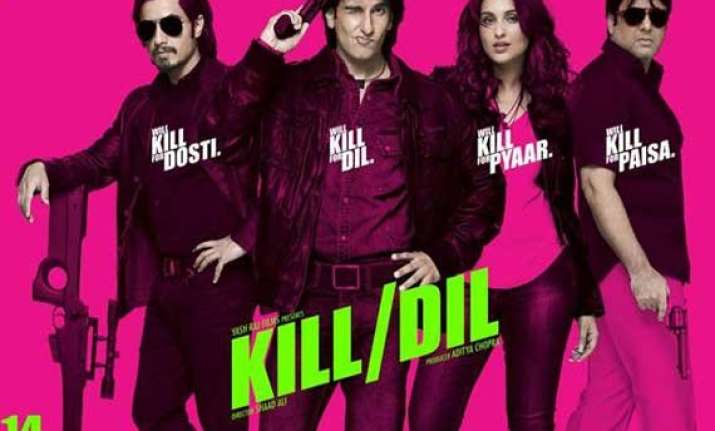 Mumbai: 'Kill Dil', the latest offing by Ranveer Singh and Parineeti Chopra seems to be delayed due to new rules set by CBFC.
After its CEO, Rakesh Kumar, got arrested on bribery charges, Central Board of Film Certification has changed few rules on granting certification to the films. The latest film caught in the storm of new rules is 'Kill Dil'.
CEO of CBFC was arrested by CBI on 18th august this year. He is accused of taking bribes to grant certification to the films. He was arrested after a demand of Rs 70,000 was made to clear a regional film.
After the shameful incident CBFC has changed few of its rules. A new rule is introduced, which states that any film or trailer seeking a certificate will have to be submitted in advance. Many of the film-makers find it really difficult to get certification for their film in time. Release dates of the films are announced in advance even before films are finished. But they can not be released on pre-announced date until CBFC certifies the film in time.
One of the films stuck in the new laid CBFC rule is Ranveer Singh and Parineeti Chopra starrer 'Kill Dil'. 'Kill Dil' is directed by Shaad Ali and produced by Yash Raj Films.
It  was slated to release on November 21 this year.
The whole marketing strategy of 'Kill Dil' is being reconsidered by the promotional team due to the delays. It is reported that the certification of the new promo of the film is delayed. Although a video 'Happy Budday' was released and gaining quite a popularity.
The promotional team had prepared to release its new promo on air on satellite channels. But it is being postponed by at least a week due to the delays. Some channels are reported to rework their media spots considering the delay.  Any further delay can cause a lot more trouble for 'Kill Dil'.
Rafiq Gangjee, Vice President, Marketing & Communications at YRF denied report of any delays in the release of 'Kill Dil'. He stated "No there was no delay as such nor did we have to change our plans, we are very much on schedule. The only thing that happened was that we were informed that any film/ trailer would have to be submitted well in advance for certification."
 
The music of 'Kill Dil' was released on September 25.  'Kill  Dil' is the second film of Ranveer Singh and Prineeti Chopra together. The film also stars Govinda and Ali Zafar in leading roles.