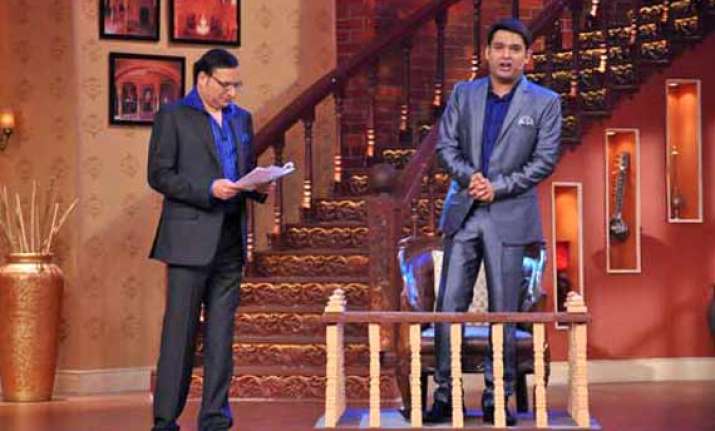 New Delhi: Aap Ki Adalat host Rajat Sharma, who does not even spare Bollywood biggies to be the target of his gimmicks is all set to grill India's favourite comedian this time.
Coming soon on Kapil Sharma's popular 'Comedy Nights With Kapil' would be the famous news anchor and 'Aap Ki Adalat' supremo, Rajat Sharma.
Rajat Sharma being served chai-samosas in Kapil's house: Fear makes people do things.

After encountering many Bollywood and political celebs on his show, this would be the first time that Kapil will have a face-off with a person who is veteran in keeping people under the edge on his show.
Palak at Rajat Sharma's feet for a break on television.

Rajat Sharma, who is usually seen making a one-to-one rendezvous with celebrities on his 'Aap Ki Adalat' will now be seen sharing laughter with another popular household name, Kapil Sharma.
The buzz about Rajat Sharma featuring in Comedy Nights with Kapil has been doing rounds for quite some time. But now that the clip of the said episode has been shown in the recent episode of the show, it is confirmed that soon we will witness a episode of Comedy Nights With Kapil, which will be full of witty one liners and gimmicks.
Last month after Kapil shot with Rajat Sharma, he tweeted, "Superbbbbbbb episode with mr rajat sharma.. Will post d on air date later... Now pack up.. Gud ngt..."
Kapil cornered by Rajat Sharma.


Previously too, Kapil had tweeted that how petrifying was he feeling before shooting with the anchor. His prior post reads: "Is baar mera band bajne wala hai.. Shooting with mr rajat sharma..."
With all the hullaballoo happening regarding the comparison between 'Comedy Nights With Kapil' and Sunil Grover's 'Mad In India', this episode would surely be a turn on for the TRP ratings to soar high.
It'll be interesting to see how the two industry's specialists who are popular to grill big names on their respective shows create wonders when they come together.
Watch the show on Saturday, 12th April on Colors.