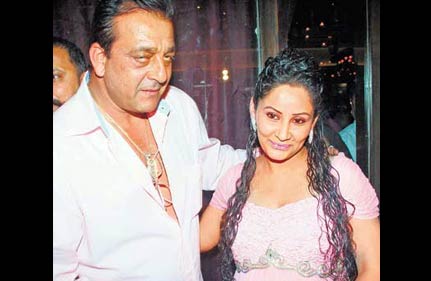 Bollywood star Sanjay Dutt's wife Maanayata will be discharged from Breach Candy Hospital, Mumbai, but her twin newborn babies have been kept in the hospital for observation, reports MidDay.
 
Maanayata promptly moved in to a nearby five-star hotel, so she can be close to her babies, the report said.
Sanjay Dutt's wife gave birth to twins, a boy and a girl,  on October 21.
The report quoted a source close to the Dutts, "The Dutt babies (a boy and a girl) had been born prematurely so they had to be kept in the incubator under constant observation for almost a month. For the past two weeks, Maanayata was also recovering from the birth in the hospital. But now she's no longer a patient and can't stay at the hospital any more. However, the babies have to be kept there for another 10 days. The Dutts live in Bandra while the babies are in the  hospital in South Bombay. Maanayata is still weak and unable to travel so far everyday so she and Sanjay thought of a more practical solution to be close to the babies."
 
Maanayata Dutt has booked herself a suite at the Four Seasons Hotel in Worli along with an assistant. "She can't stay at the hospital anymore, but Maana has to feed her babies so she has to be near them. Hence, she has booked a luxurious suite and will be shifting into it from tomorrow."
But first, the star wife will check out today from the hospital and go home for Diwali. "She will go home, do Lakshmi puja, light diyas, then pack her bags and spend Diwali at home. On Saturday morning Sanju (who  is currently shooting for his home production Rascals) and she will drive down to the hotel and check in to their suite. It's a practical decision as this way Maana saves on time and effort while travelling to and fro the hospital."