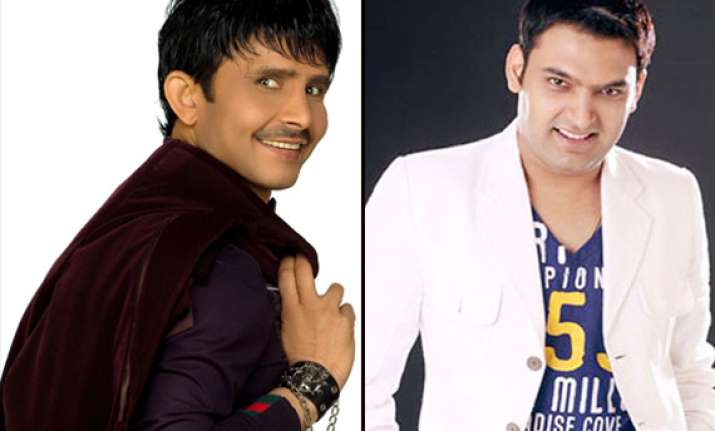 New Delhi: After firing cuss words on comedian Kapil Sharma, the controversial actor Kamaal R Khan has taken a clever u-turn saying he never abused the 'Comedy Nights With Kapil' host and loved him so much.
Kamaal, who is all day and night glued on to the social networking websites, reasoned that someone created misunderstanding between him and Kapil which has irked the comedian.
"Actually somebody told to @KapilSharmaK9 something wrong so he got angry coz of misunderstanding. I like him so much as a best comedian", tweeted Kamaal R Khan.
It could be recalled that both these actors got into an online chat war with usage of the most degraded language. KRK didn't shy away from using the cheapest phrases of them all.
But here we have a rather different avatar of Kamaal, who played a supporting role in Mohit Suri's 'Ek Villain'.
According to him, Mika Singh in an interview said that KRK abused Kapil in front of him.
"I have nothing personal against @KapilSharmaK9 or anybody else n I never abused him in front of @MikaSingh as he has referred in his intervw", he tweeted further.
Later he was all praising the comedian. "Ppl stop creating misunderstanding. I love @KapilSharmaK9 who is best comedian of India. I love his acting skills as comedian. He rocks", he wrote.
But once again Kamaal was at his usual. He mocked Kapil saying that jokers best suit in circus and not in movies.
"Actually jokers look very good in circus not in films so jokers must work 4comedy circus only. I simply love them becaus they make me laugh", he tweeted.
Also he advised Kapil to watch his flick 'Ek Villain' and tell him about his performance, "Bhai Jaan @KapilSharmaK9 did you watch my blockbuster film #EkVillain ? Pls let me how is my super duper hit role in #EkVillain ?", tweets KRK.
Well, watching different shades of KRK, one cann't zero in what this actor is going through and who will come next under his radar.